Welcome from the Program Director
Thank you for your interest in the Emergency Medicine Residency at Boston Medical Center, the oldest emergency medicine training program in Boston. I hope that you find our site interesting and informative!
We aim to provide individual growth opportunities, teach clinical expertise, and foster administrative, research, teaching, and mentoring skills. We encourage residents to understand and develop their own learning styles, and we guide residents as they establish strong foundations on which to build their future practice.
Our PGY 1-4 residency works within a framework of evidence-based medicine and graduated clinical responsibility. With more than 130,000 visits per year, residents are exposed to the breadth and depth of emergency medicine. With our roots in the old Boston City Hospital, we have maintained our tradition as a safety-net hospital while also being recognized as a tertiary care referral center. We care for local members of our community as well as those who travel large distances to see our specialists and world-renowned experts. While the majority of training is done at BMC, residents gain important additional experience in other emergency medicine environments at Boston Children's Hospital, Lahey Hospital, St. Elizabeth's Medical Center and Good Samaritan Hospital.
Our residency and faculty are diverse in their backgrounds and expertise. We have nationally recognized experts in public health, EMS, substance abuse, cardiovascular emergencies, ultrasound, operations and administration, international emergency medicine, and medical education.
An exceptional curriculum, combined with 5 months of elective time, enables us to train future leaders in our field – whether they choose to be clinicians, researchers, administrators, or any combination thereof.
I encourage you to explore our website – get a taste of what we have to offer. If you have additional questions, please feel free to contact me (kerry.mccabe@bmc.org), our Chief Residents (bmcemchiefs1819@gmail.com), or our Residency Coordinator (nancyd.connor@bmc.org).
Thanks,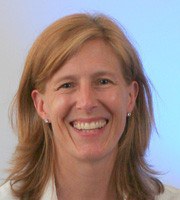 Kerry McCabe, MD
Residency Program Director