Wellness and Recovery After Psychosis (W.R.A.P.)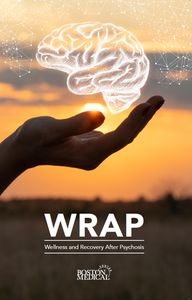 Tailored for patients who are experiencing psychotic symptoms, the Wellness and Recovery After Psychosis program offers a variety of services for patients to help them toward leading productive lives. Psychotic symptoms may include:
Hearing voices and/or seeing things which others do not
The feeling of being under surveillance by other people or organizations
Disorganized thinking
Unusual beliefs
These symptoms are distressful and often interfere with daily function. In partnership with the Department of Psychiatry, WRAP brings together a multidisciplinary team of psychiatrists, psychologists, nurse practitioners and social workers collaborating to provide patients with unique therapeutic treatments.
WRAP REFERRALS 
Always call 911 in case of a medical emergency or immediate safety concern.
Call the BEST Team for 24 Hour Psychiatric Crisis (800)-981-HELP (4357)
Call Ellie Reagan for questions about WRAP Clinic including but not limited to:
Rescheduling an appointment
Directions to our offices
Hearing more about any of the services we provide
Other questions about the clinic
Call 617-414-1990 and ask for Ellie, or leave a message on her direct line 617-414-1918
Fax: (617)-414-1910
Schedule appointments with any of our providers through the Front Desk
Adult Front Desk Phone: (617)-414-4238
Child Front Desk Phone: (617)-414-4561
Sign up for MyChart here: https://mychart.bmc.org/mychart/