Wellness and Recovery After Psychosis (W.R.A.P.)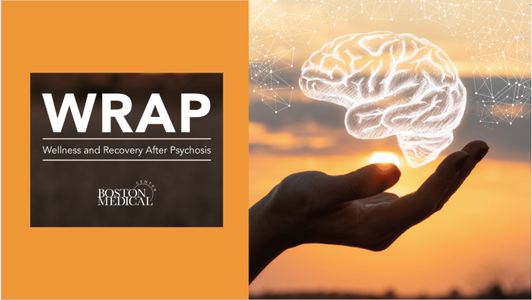 What is Psychosis?
Psychotic symptoms may include hearing voices and/or seeing things that others do not, feeling of being watched or followed, confusing thoughts, disorganized thinking, strange or unusual beliefs.
These symptoms are distressful and often interfere with daily function. WRAP brings together a multidisciplinary team of psychiatrists, psychologists, nurse practitioners and social workers collaborating to provide patients with unique therapeutic treatments.
Overview of the WRAP Program
We offer team-based care to help individuals lead meaningful, productive lives. Our program consists of a team of specialists to provide medication management, individual therapy, family education, and peer support. We also coordinate with individuals' primary care physicians, places of employment or schools in order to provide optimal coordinated care.
The WRAP Program treats patients of all ages and has served a diverse patient population within Boston. Within the WRAP Program, we have a specialized program called the First Episode program for patients who have recently experienced an initial episode of psychosis.
WRAP Services
As a brief overview of our services, we offer:
Medication Management
Weekly Group Therapy
Individual Therapy
For more information on services offered, visit the WRAP Services page.
WRAP REFERRALS 
Always call 911 in case of a medical emergency or immediate safety concern.
Call the BEST Team for 24 Hour Psychiatric Crisis (800)-981-HELP (4357)
For referrals: To access downloadable referral forms to our clinic, visit the WRAP Referrals page. This form can be sent in to our clinic via email (wrap@bmc.org).
For appointments and inquiries: Call Ellie Reagan at her direct line 617.858.1421, for questions about WRAP Clinic including but not limited to:
Rescheduling an appointment
Directions to our offices
Hearing more about any of the services we provide
Other questions about the clinic
Email us with any questions at WRAP@bmc.org.
Feel free to follow us on Instagram at 'wrapbmc'
Sign up for MyChart here: https://mychart.bmc.org/mychart/