Housing Resources

Welcome! Housing Resources is here to help Boston University Medical Campus students find a place to live in the Boston and surrounding areas.  We are here to walk you through the entire housing search process — from picking a neighborhood to finding a roommate to signing a lease.  Even after you find a place to live, we can help you with any issues you may have getting settled in Boston or working through any roommate or landlord conflicts.
Mission Statement:
Housing Resources mission is to educate, advise and assist students on the practices and policies of renting an apartment, on issues as they relate to roommates and landlords and on their rights and responsibilities as tenants. This mission is realized through excellence in service, resources, presentations and individual consultations.
---
2023 Virtual Housing Fair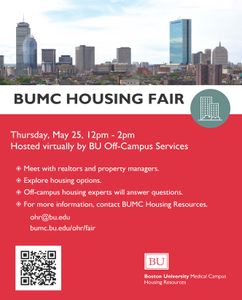 ---

The 2023 BUMC Housing Guide, developed in partnership with VeryApt, is now available to all BUMC students! This guide was built using ratings and feedback from current BUMC students to assist the BUMC population in finding housing in the Boston area. You can use the guide to learn more about properties and landlords throughout Boston, the neighborhoods where BUMC students live, and expected rental expenses.
---
Did you miss the 2023 All About Renting in Boston Presentation? No problem, the recording is live on our website!
Does the thought of searching for housing in Boston seem daunting? Join us on Friday, March 3rd from 1-2 PM to learn more about finding a place to live and the rental experience in Boston. Our guest speaker Steve Handler provides great advice, based on his extensive years of experience in the Boston rental market. The event will be held virtually and in-person in room B-406 of the Robinson building.
---
Contact the staff of Student Financial Services & Housing Resources
Assistance and encouragement
Information about area realtors and neighborhoods
Help with landlord issues
Guidance on understanding your lease
For most immediate service, please contact us at OHR@bu.edu.
Quick Links to Housing Resources webpages: