Transmission Electron Microscope (TEM)
As part of the Integrated Biomedical Imaging Services (IBIS), the Transmission Electron Microscope (TEM) system at the Boston University Medical Campus provides services for transmission electron microscopy imaging, as well as services for sample preparation and assistance with projects, experiment planning and analysis.
Instruments
JEOL JEM-1400Flash TEM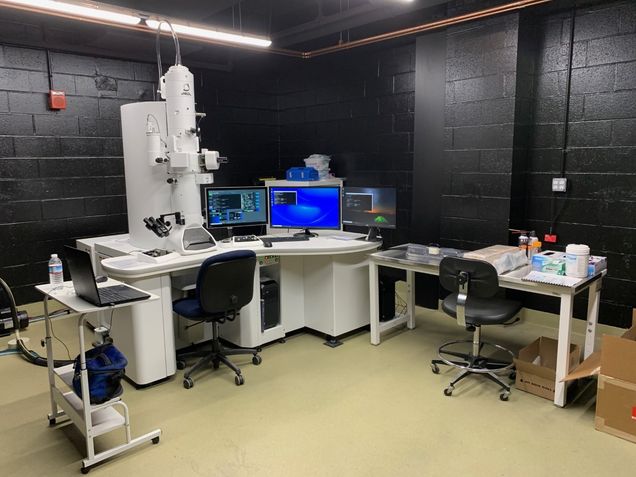 Specifications of JEOL JEM-1400Flash TEM
Electron Source
LaB6 filament
Accelerating Voltage
60 kv-120kv
Operation Modes
Bright Field
Dark Field
Diffraction
Magnification
Low Mag Mode 10X to 1,000X
Standard Mag Mode 200X to 1.2MX
TEM Resolution
0.2 nm lattice

0.38 nm point to point

Sample Holders
Jeol quick-change specimen holder with one specimen capacity

Fischione 2040 dual axis rotating holder

Tilt Angles
±25° tilt with quick-change specimen holder

±70° tilt with Fischione holder

Image Recording
AMT NanoSprint-43M-B Mid-Mount CMOS camera with a large 7915×5436 pixels format. This camera offers 5.5μm square pixels at the phosphor and images a 43 x 30 mm physical FOV.
The JEOL JEM-1400 Flash TEM is equipped with:
Dual-Axis Fischione Model 2040 specimen holder, which allows for precise in situ specimen in-plane 360-degree rotation that is necessary for automated montaging and serial imaging. This specimen holder features an optimal tilt angle range in narrow gap (~ 5 mm) pole piece geometries, while maintaining microscope resolution. Thus, this holder can also be used for 3D tomography applications.
SerialEM and IMOD Software, which enables automated image acquisition, registration, and alignment of single- or dual axis tilt series. SerialEM also employs a versatile montaging system that can be used to acquire a large-scale image montage of the entire grid across the TEM sample. The IMOD software suite is a set of post-acquisition programs for processing the 3D tomography tilt series as well as serial section data into 3D reconstructions.
Leica UCT Ultracut Ultramicrotome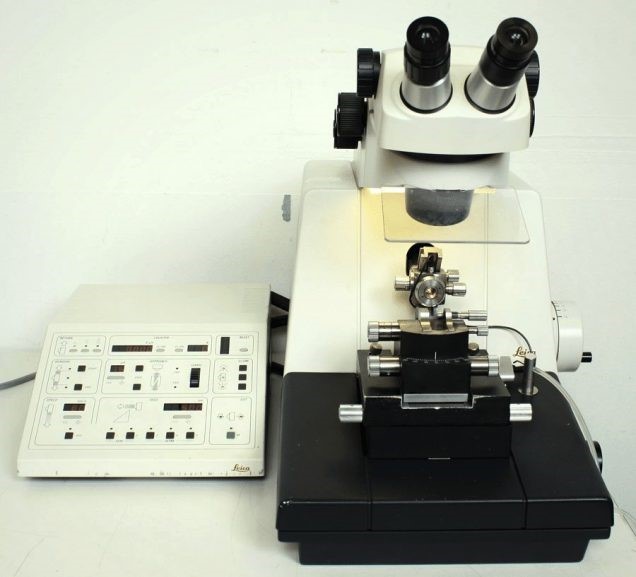 This instrument is designed for extremely precise cutting of resin embedded biological specimens. It achieves consistent high quality ultra-thin sections (40-100 nm) for transmission electron microscopy, or semi-thin sections (1-2 µm) for light microscopy. It features a continuous feed range from 0 to 2.5 µm and has adjustable cutting speeds of 0.1 to 50 mm/sec. The system consists of a control box with power cord, a microtome sectioning unit, and a microscope assembly with AO Stereostar 570 zoom body (0.7X – 4.2X) with attached 10X eyepieces. It has a 6V, 10W halogen illumination system.
Services provided by TEM staff include:
Training in transmission electron microscope operation;
Assisted and unassisted use of the electron microscope;
Tissue processing and resin embedding of specimens for TEM;
Ultrathin sectioning of resin embedded specimens;
Negative staining of small particles (e.g. purified viruses and proteins).
Instruments | Services

BU Internal Rates
External Academic Rates

External Commercial Rates

JEM-1400 Flash 120kV TEM
$48/hour unassisted
$108/hour training/assisted
$85/hour unassisted
$189/hour training/assisted
$100/hour unassisted
$210/hour training/assisted
TEM processing tissue embedding negative staining
$60/hour
$100/hour
$120/hour
Ultrathin sectioning of resin embedded tissue
$100/hour
$178/hour
$214/hour
Leica UCT Ultracut Ultramicrotome
$22/hour unassisted
$100/hour training/assisted
$45/hour unassisted
$178/hour training/assisted
$55/hour unassisted
$214/hour training/assisted
How to Schedule
Please login to iLab system to schedule equipment time or services. For new users please follow the steps outlined in Information for New Users.
Hours
Monday to Friday | 6 a.m. to 7 p.m.
Additional hours are available for persons who have been approved by the Director and/or Assistant Director.
Usage and Training
Training is mandatory for all new users and requires:
Review of an online instructional manuals and modules, via a training link provided by the core staff; and
Scheduling of two consecutive 2-hour sessions of "Assisted Use" for practical in-person training.
Types of Training
Basic User training includes basic TEM operation, use of JEOL specimen holder, AMT imaging, and serial EM/IMOD basic training for 2D montaging.
Advanced User training is for users wanting to use more advanced features (tomography), which is available on a case-by-case basis. This training requires an additional set of online training modules, and "Assisted Use" in-person 2-hour training session.
Returning Users who have been initially trained but have not used the machine for more than 1 year will require a 1-hour in-person refresher training session.
Please contact us to schedule training or assisted use. Once users have been trained, time on the instruments may be scheduled.
We require that all users cancel sessions 24 hours before the scheduled start time. Failure to cancel will result in the user (or PI) being billed for the entire scheduled duration.
Acknowledgments
The Transmission Electron Microscope was funded by the NIH Award Number S10OD028571. We greatly appreciate acknowledgement of NIH S10OD028571 in publications when authors use our equipment and/or assistance in their research.
Contact
Haiyan Gong, MD/ PhD
TEM Director
(617) 358-2213 | hgong@bu.edu
Maria Medalla, PhD
TEM Assistant Director
(617) 358-1893 (R Bldg. Office) | (617) 358-7717 (X Bldg. Office)
mmedalla@bu.edu
Location
Boston University Chobanian & Avedisian School of Medicine
Housman Medical Research Center
72 E. Concord Street, R Building, R-824A
Boston, MA 02118
View BUMAPS
◄ Back to Integrated Biomedical Imaging Services (IBIS) website