Xiaobin Wang, MD, PhD
Adjunct Professor, Pediatrics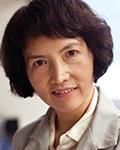 72 E. Concord St Instructional (L)
Biography
Dr. Wang is a board certified pediatrician and a molecular epidemiologist whose work unites biomarkers, clinical medicine, epidemiology, and disease prevention. She has served as the principal investigator (PI) of multiple large-scale molecular and genetic epidemiological studies funded by the National Institute of Health, with a particular focus on environmental factors, nutritional biomarkers, genetic variants, epigenetic alterations, and their interactions in complex human diseases, including reproductive and pregnancy outcomes, obesity, metabolic syndrome, and other high-impact diseases such as food allergy and asthma. Dr. Wang and her team have established three large study cohorts (Boston Birth Cohort, Chicago Family-based Cohort, and Chinese Twin Cohort).
Along with extensive epidemiological and clinical data as well as related biorepositories, these cohorts are well-designed for studying a broad range of health and disease outcomes and early life precursors of pediatric and adult diseases. Dr. Wang has authored and co-authored more than 140 publications and many of them appear in prestigious medical journals, including the New England Journal of Medicine, Journal of the American Medical Association, and Lancet. Her work has contributed to the understanding of environmental exposures, genetic susceptibility and gene-environment interactions in complex human diseases. Her work has provided evidence on folic acid supplementation in the prevention of stroke for populations without folate grain fortification; and was cited by the American Stroke Association in the latest guidelines for the prevention of stroke. Dr. Wang served as a member of the Institute of Medicine Committee on Understanding Premature Birth and Assuring Healthy Outcomes. She is a regular member of the NIH study section.
Dr. Wang received her MD from Beijing Medical University in Beijing, China, and a master of public health from the School of Public Health and Tropical Medicine at Tulane University in New Orleans. She also received a doctor of science degree from the Department of Maternal and Child Health at the Johns Hopkins University School of Hygiene and Public Health in Baltimore. She completed a three-year research fellowship in Environmental Epidemiology at the Harvard University School of Public Health and a residency in pediatrics at the Boston University Medical Center.
Education
Beijing Medical University

, MD

Johns Hopkins University

, ScD

Tulane University

, MPH