Vassiliki Pravodelov, MD
Assistant Professor, Medicine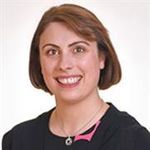 Biography
Vassiliki Pravodelov, MD, FACP is an Assistant Professor in the Section of Geriatrics, Department of Medicine, Boston University Chobanian & Avedisian School of Medicine. She practices primary care for older adults in the ambulatory and home care setting with the Boston University Geriatric Services. She also practices inpatient medicine for geriatric patients at Boston Medical Center.
Dr. Pravodelov leads the Evidence-Based Practice Module for interdisciplinary clinicians within the Center of Excellence in Geriatric Medicine at Boston University and is a preceptor for BU medical students, internal medicine residents, and geriatrics fellows.
Dr. Pravodelov serves as a mentor or medical students and residents at BUSM and as a coach to internal medicine residents at Boston Medical Center. She is also the faculty advisor of the Bridging Gaps in Care student group at BUSM (http://www.bumc.bu.edu/busm/student-affairs/student-life/service-learning/bridging-gaps-in-care/).
Dr. Pravodelov has presented at various national society meetings, including at the Society of General Internal Medicine (SGIM), American Geriatrics Society (AGS), The Association for Multidisciplinary Education and Research in Substance use and Addiction (AMERSA), and AMDA national meetings.
Dr. Pravodelov is a co-chair of the AMERSA Geriatrics and Palliative Care Special Interest Group.
Her interests include:
– Comprehensive care for the older adult
– Home visits/home care
– Safe opioid use and prescribing in the older adults
– Substance use disorder in older adults and adults with chronic serious illness
– Evidence-Based Practice
– Medical Education (students, residents, fellows)
– Advanced Care Planning in older adults with chronic serious illness
– Polypharmacy and Deprescribing
– Quality Improvement
Education
Boston University School of Medicine

, MD
Publications
Published on 3/7/2022

Liu CK, Seo J, Pravodelov V, Frazier S, Guy M, Concilio K, Lau-Ng R, Brandeis G, Watson J, van der Velde J, Olesen SW, Budree S, Njenga M, Kassam Z, Osman M. Pilot study of autologous fecal microbiota transplants in nursing home residents: Feasibility and safety. Contemp Clin Trials Commun. 2022 Jun; 27:100906. PMID: 35299780.

Read at: PubMed

Published on 9/1/2020

Pravodelov V. Thoughtful Prescribing and Deprescribing. Med Clin North Am. 2020 Sep; 104(5):751-765. PMID: 32773043.

Read at: PubMed