Varsha G. Vimalananda, MD, MPH
Associate Professor, Medicine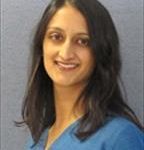 Biography
I am an endocrinologist, an Associate Professor of Medicine at Boston University, and a Physician-Scientist at the Center for Healthcare Organization and Implementation Research (CHOIR) at the VA Bedford Medical Center. I lead research to improve the quality of specialty health care delivery from patient and clinician perspectives.
My projects include work to:
– Develop and validate survey measures of specialty care coordination from patient and clinician perspectives
– Measure coordination of face-to-face care, telehealth, and cross-system care and examine their influences and outcomes in order to guide improvement work
– Identify and apply strategies to improve the efficiency and experience of e-consults and telehealth
– Ensure a clinical perspective in research on telehealth, secure messaging, text messaging, patient portals, and natural language processing to improve care for patients with diabetes
My research draws on my expertise in survey methods, qualitative methods, care coordination, patient-centered care, and endocrinology subspecialty care. I serve as a subject matter expert as a member of the Endocrine Society Clinical Affairs Core Committee and also for the American College of Physicians Council of Subspecialty Societies.
Other Positions
Physician-Scientist

,

Center for Healthcare Organization and Implementation Research (CHOIR)

,

Bedford VA - Edith Nourse Rogers Memorial VA Hosp
Education
Drexel University College of Medicine

, MD

University of California, Berkeley

, MPH

University of Chicago

, BA