Vaishali Sanchorawala, MD
Professor, Medicine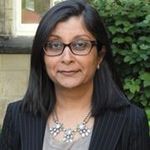 72 East Concord Street, K-503
Biography
72 East Concord Street, K-503, Boston, MA 02118
820 Harrison Avenue, Boston, MA 02118 (clinic address)
Expertise includes: AL amyloidosis – clinical trials, treatment; Amyloidosis; Stem cell transplantation; Myeloma.
Dr Vaishali Sanchorawala is the Director of Stem Cell Transplantation program at Boston Medical Center; Director of Amyloidosis Center at Chobanian and Avedisian School of Medicine; Skinner Professor of Amyloidosis Research in the Department of Medicine; Associate Editor of Amyloid: The Journal of Protein Folding Disorders and Secretary of the International Society of Amyloidosis for the term 2020-2022.
Her research has led and defined the field in AL amyloidosis. She is recognized as one of the leading international experts and a key opinion leader in amyloidosis. With numerous publications and meeting presentations, she is one of the pioneers in the field of clinical research in AL amyloidosis. Her work in the treatment of AL amyloidosis has resulted in the evolution of the standard of care for these patients. I am currently heading several clinical trials in the treatment of AL amyloidosis, two of which were conducted nationally through the Southwest Oncology Group (SWOG0115 and SWOG1702), completed accrual in a timely fashion and led to publications in a peer-reviewed journals.
Dr Sanchorawala is part of the faculty at major international conferences in amyloidosis and has given many invited talks at national and international meetings. She is active in various non-profit organizations, regulatory authorities, and funding bodies as an expert on amyloidosis. She is at present a member of the Executive Steering Committee of Amyloidosis Research Consortium which is developing pathways to education, patient voice, development of treatment and access to novel therapies. She has participated in meetings with the FDA for enhancing the amyloidosis drug development pathway, guidance for more efficient and successful programs. She serves on the advisory board of number of leading pharmaceutical partners for drugs in AL amyloidosis.
She has helped to create and cultivate the next generation of physician-scientists in the area of clinical research in amyloidosis. She regularly attends a number of patient information seminars and support group meetings in the US. She also created the first "live tweet event" for patients and care givers to ask questions via social media.
Outside of roles of direct research and clinical care, she has an interest inworking in charity organizations. She helps cook meals for ~300 underserved individuals at a meal center in Massachusetts (1-2 times a month) and volunteers regularly at "Cradles to Crayons" charity, non-profit organization.
Other Positions
Associate Director

,

Amyloidosis Center

,

Boston University Chobanian & Avedisian School of Medicine

Member

,

BU-BMC Cancer Center

,

Boston University

Director

,

Hematology & Medical Oncology

,

Stem Cell Transplantation Program

,

Boston Medical Center

Secretary

,

International Society of Amyloidosis

Executive committee

,

Amyloidosis Research Consortium

Associate Editor

,

Amyloid: The Journal of Protein Folding disorders
Education
Seth G.S. Medical College

, MBBS