Tony E. Godfrey, PhD
Professor, Surgery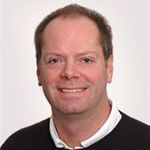 700 Albany St Ctr for Adv Biomed Res
Biography
Tony E. Godfrey, PhD, Associate Chair, Surgical Research and Associate Professor of Surgery, Chobanian and Avedisian School of Medicine, earned a bachelor's of science degree in biochemistry from Brunel University in England, followed by a doctorate in molecular biology and biochemistry, also from Brunel. He attended the University of California, San Francisco, for postdoctoral fellowships and managed UCSF's Genome Analysis Core Facility.
Most recently, Dr. Godfrey was a Research Associate Professor in the Department of Surgery at the University of Rochester Medical Center in Rochester, NY. Prior to this he was an Associate Professor of Pathology at Mt. Sinai School of Medicine in New York, NY.
Dr. Godfrey's research is focused on cancer genetics and molecular pathology. Research projects use state-of-the-art genetic and genomic approaches to address clinical needs in the areas of cancer diagnosis, prognosis and therapy. Currently the major focus of Dr. Godfrey's research is on Barrett's esophagus and esophageal adenocarcinoma; a tumor with rapidly increasing incidence in the United States and other western countries. The Godfrey lab works closely with translational research teams comprised of surgeons, pathologists and oncologists in order to develop new molecular approaches to cancer detection, staging and treatment.
Other Positions
Professor

,

Computational Biomedicine

,

Medicine

,

Boston University Chobanian & Avedisian School of Medicine

Member

,

BU-BMC Cancer Center

,

Boston University

Member

,

Evans Center for Interdisciplinary Biomedical Research

,

Boston University

Member

,

Genome Science Institute

,

Boston University
Education
Brunel University

, PhD

Brunel University

, BSc