Thomas D. Tullius, PhD
Professor, Chemistry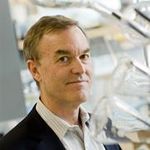 Biography
Tom Tullius conducts research in genomics, structural biology, and biophysical chemistry. In addition to Chemistry, he is Professor of Pharmacology and Professor of Experimental Therapeutics in the Chobanian and Avedisian School of Medicine. He is an elected Fellow of the American Association for the Advancement of Science and he is on the Editorial Advisory Board of the Chemistry Central Journal. Professor Tullius is a faculty affiliate and Director of the Boston University Bioinformatics Program.
The Tullius Group introduced hydroxyl radical footprinting, which is widely used for the structural study of DNA, DNA-protein complexes, and RNA. They investigate the connection between structural properties of DNA and genomics, including evolutionary selection for DNA structure in the human genome. Their human genome studies were initiated with funding from the ENCODE (Encyclopedia of DNA Elements) Pilot Project, which was organized by the National Human Genome Research Institute of the NIH to discover functional elements in the human genome.
Measurement of the Deuterium Kinetic Isotope Effect on Hydroxyl Radical Cleavage of RNA aims to synthesize a complete set of nucleoside and deoxynucleoside triphosphates specifically deuterated at each sugar carbon atom. The deuterated nucleoside triphosphates are used in kinetic isotope effect experiments on hydroxyl radical cleavage of RNA, to provide more detailed information on the structural features of RNA to which the hydroxyl radical is sensitive. The goal of this work is the development of a chemical probe of RNA structure of unprecedented resolution.
Genome damage and aging: whole-genome maps of oxidative DNA lesions at single-nucleotide resolution investigates a new way to map, at single nucleotide resolution for an entire genome, the sites of oxidative damage that are induced in the DNA backbone by the hydroxyl radical. The study uses an advanced sequencing platform to comprehensively identify sites of DNA strand breaks. With these experiments it is possible to visualize, at single-nucleotide resolution, what parts of a genome are sensitive to attack by the hydroxyl radical and what parts are resistant. This work will provide unique new information on how oxidative damage affects the genome and so contributes to aging.
Techniques & Resources:
ORChID (OH Radical Cleavage Intensity Database) – Database of experimentally determined hydroxyl radical cleavage patterns of naked DNA molecules. Algorithm to predict the cleavage pattern of any DNA sequence.
ORChID in the UCSC Genome Browser – ORChID values predicted for the human genome. The data is viewable and available for download from the UCSC genome browser.
Chai regions in the UCSC Genome Browser – Chai is a structure-informed evolutionary sequence constraint detection algorithm. Chai-identified regions are available from the UCSC genome browser.
Other Positions
Professor

,

Pharmacology, Physiology & Biophysics

,

Boston University Chobanian & Avedisian School of Medicine

Director

,

Bioinformatics Graduate Program

,

Boston University

Member

,

BU-BMC Cancer Center

,

Boston University

Member

,

Evans Center for Interdisciplinary Biomedical Research

,

Boston University

Member

,

Genome Science Institute

,

Boston University

Graduate Faculty (Primary Mentor of Grad Students)

,

Boston University Chobanian & Avedisian School of Medicine, Graduate Medical Sciences
Education
Stanford University

, PhD

University of California, Los Angeles

, BS