Sudha Seshadri, MD
Adjunct Professor, Neurology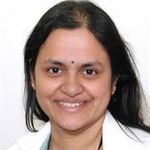 Biography
I have been an investigator at the Framingham Heart Study (FHS) since 1998, leading the clinical neurology and neurogenetics cores since 2005 and serving as PI on 9 NIH grants, 5 R01 grants, 3 U01s and a UH2. As a board certified neurologist and Professor of Neurology at the Chobanian and Avedisian School of Medicine, I ran a Geriatric Memory Disorders and Dementia clinic, supervised a resident general neurology clinic and covered the in-patient, consult and emergency services for one month in each year. I also served as Co-Director of Medical Education for the Neurology Residency Program between 2005 and 2012. I was Director of the neurology segment of the Biology of Disease/ Disease and Therapy course for 2nd year medical students between 2008-2010 and in 2015-16 and continue to teach the Dementia module. I currently spend 75% of my time on research and mentoring within the context of the Framingham study and have served as primary mentor for over 30 physician and non-physician investigators funded by a wide range of grants, national (K23, AAN, AHA) and international (Fulbright, Bettencourt-Schuller, Sidney-Sax etc.).
In my research capacity, I currently lead the clinical neurology and neurogenetics cores at the FHS, where we explore the cumulated and age-specific impacts of a wide variety of genomic and environmental risk factors underlying stroke, dementia and brain aging across 3 generations of participants. This entails undertaking brain MRI, cognitive tests, brain autopsies, biomarker, candidate gene, genome-wide association, sequencing and expression studies. At FHS, my key contributions have included updating the dementia database with improved tracking, review and new classification systems, studying novel biomarkers such as BDNF, NGF and beta-amyloid, and establishing a brain bank program. In addition I play a major role in consolidating, refining and expanding various aspects of the MRI and stroke databases. Further, as lead neurogenetics investigator I have funded whole exome sequencing on over 1300 Framingham Study participants.
My research focuses on 4 interrelated areas: (a) exploring the correlates of subclinical brain aging including establishing norms for brain MRI and cognitive test performance and relating these measures to novel risk factors (such as visceral fat mass), multiple circulating biomarkers and clinical and subclinical indices of vascular and metabolic disease; (b) the epidemiology of stroke and vascular cognitive impairment including the lifetime risk of stroke, cognitive decline and dementia following stroke, the role of parental stroke and midlife risk factors in determining late-life stroke risk and temporal trends in stroke risk over the past 50 years; (c) the epidemiology of dementia and Alzheimer's disease (AD) including describing the lifetime risk of AD and relating traditional and novel biomarkers (homocysteine, lipids, diabetes, estrogen, bone mineral density, thyroid function, inflammation) to the risk of dementia and AD. I have been especially interested in exploring the role of reversible lifestyle, vascular and metabolic risk factors in determining dementia risk with a special focus on understanding the putative causal pathways and biomarkers, such as leptin and other adipokines, BDNF and other neurotrophic factors, in mediating this risk, and (d) understanding the genomic and epigenetic variation underlying brain aging, stroke, AD and vascular cognitive impairment.
My most significant research contributions have been (i) developing the concept of lifetime risk as applicable to dementia and other chronic diseases, (ii) helping to establish plasma homocysteine as an important risk marker for dementia and AD (including a first author paper in the NEJM in 2002 that has had over 1400 citations), (iii) relating low plasma leptin levels to the risk of dementia and AD (published in JAMA, 2009 as senior author), (iv) describing a novel gene, NINJ2, associated with ischemic stroke (NEJM, 2009 as corresponding author), (v) describing two genes, BIN1 and EXOCL2, associated with Alzheimer disease in the largest, multi-centric genome-wide association study to date (JAMA, 2010 as first author) and identifying novel genes underlying hippocampal volume in healthy adults (Nature Genetics, 2012 as Senior author).
I have over 280 peer-reviewed publications and reviews. I also established, partially fund and coordinate the neurology phenotype working group within the international Cohorts for Heart and Aging Research in Genomic Epidemiology (CHARGE) consortium started in January 2008. This consortium brings together investigators from several of the leading cohort studies, the FHS, the Atherosclerosis Risk in Communities Study (ARIC), the Cardiovascular Health study (CHS), the Rotterdam study, the Age, Gene, Environment Susceptibility- Reykjavik (AGES-Reykjavik) study and the Austrian Study for Prevention of Stroke (ASPS). In my capacity as coordinator of neuroCHARGE, I am also a founding member of the International Genomics of Alzheimer's Project (IGAP) that brings together 4 major European and US groups who are currently the leaders in AD genomics research, am a PI of the Alzheimer Disease Sequencing Project (ADSP) that assesses rare genetic variation underlying PD in over 11,500 persons, a member of the Steering Committee for the International Stroke Genetics Consortium (ISGC) and Chair of the METASTROKE consortium.
A particular emphasis of mine throughout my career has been and will continue to be mentoring younger colleagues at my own institution and around the world towards academic careers. Collectively, my mentees have over 80 first author papers that I mentored published in leading journals including NEJM, Lancet, Nature Genetics, JAMA, JAMA Internal Medicine, JAMA Neurology, Annals of Neurology, Brain, Stroke and Neurology.
Other Positions
Investigator

,

Framingham Heart Study

Director

,

Glenn Biggs Institute for Alzheimer's & Neurodegenerative Diseases

,

UT Health San Antonio
Education
All India Institute of Medical Science (AIIMS)

, MD

Christian Medical College & Hospital

, MBBS

All India Institute of Medical Science (AIIMS)

, DM