Sohera N. Syeda, MD
Assistant Professor, Medicine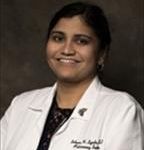 Biography
Patient Care:
Dr. Syeda is a practicing Pulmonary and Critical Care physician across various telehealth, tele-ICU, ambulatory and ICU settings at the VA Boston Healthcare System in West Roxbury, MA, Bedford VA Medical Center in Bedford, MA, Steward Norwood Hospital in Norwood, MA and Steward Healthcare System in Massachusetts.
Research:
Dr. Syeda serves as the site PI at VA Boston for the DECAMP 1 PLUS study which aims to improve the efficiency of the diagnostic evaluation of patients with indeterminate pulmonary nodules (8-25 mm). Molecular biomarkers for lung cancer diagnosis measured in minimally invasive and non-invasive biospecimens may be able to distinguish between malignant or benign indeterminate pulmonary nodules in high-risk smokers. Ultimately, this study aims to validate molecular as well as clinical and imaging biomarkers of lung cancer in individuals with indeterminate lung nodules. https://clinicaltrials.gov/ct2/show/NCT04165564
The Detection of Early lung Cancer Among Military Personnel (DECAMP) consortium is a multidisciplinary and translational research program that includes Veterans Administration hospitals, military treatment facilities, and academic hospitals as clinical study sites.
Clinical Leadership:
Dr. Syeda is the Medical Director for the Bedford Enclave Pulmonary clinic and a multidisciplinary Palliative-Pulmonary clinic at VA Boston serving veterans with advanced lung disease and intractable breathlessness. She designed and directed The Coordinated Care and Case Management Program, a longitudinal case management program focusing on improving transitional care and healthcare utilization for high-risk veterans with heart failure or chronic obstructive pulmonary disease (COPD).
Educational Activities:
Dr. Syeda is engaged in graduate medical education activities as Associate Program Director for the Pulmonary/Critical Care Fellowship and site director at VA Boston. She is also engaged in medical student education during the pre-clerkship years as Assistant Module Director for the Pulmonary module in the PISCEs (Principles Integrating Science, Clinical Medicine and Equity) course. Dr. Syeda serves as a consultant to the Chobanian and Avedisian School of Medicine, Barry M. Manuel Office of Continuing Medical Education and COPD Quality Improvement Consortium. She serves on the speakers bureau for NPACE, Nurse Practitioners Associates Continuing Education and has presented nationally on several topics including COPD, asthma, smoking cessation, vaping and COVID19.
Interests:
Quality Improvement/Patient Safety, COPD healthcare utilization and palliative care outcomes, care coordination, chronic critical illness and medical education.
Education:
Rush Medical College, Class of 2005.
Internship, Residency and Chief Residency in Internal Medicine, BUSM, 2005-2009
Pulmonary and Critical Care Fellowship, BUSM 2009-2012
Other Positions
Member

,

Pulmonary Center

,

Boston University

Boston Medical Center

VA Boston Healthcare System
Education
Rush University

, MD

Wesleyan University

, BA