Shree Radhakrishnan, MD
Assistant Professor, Medicine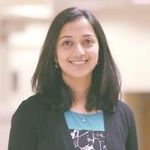 Education
Pondicherry University

, MBBS
Publications
Published on 11/26/2020

Radhakrishnan SL, Ho KK. Transradial vs transfemoral secondary access outcomes in transcatheter aortic valve implantation: A systematic review and meta-analysis. World J Cardiol. 2020 Nov 26; 12(11):571-583. PMID: 33312442.

Read at: PubMed

Published on 3/31/2017

Pinelli DF, Friedewald JJ, Haarberg KMK, Radhakrishnan SL, Zitzner JR, Hanshew WE, Tambur AR. Assessing the potential of angiotensin II type 1 receptor and donor specific anti-endothelial cell antibodies to predict long-term kidney graft outcome. Hum Immunol. 2017 May - Jun; 78(5-6):421-427. PMID: 28372986.

Read at: PubMed

Published on 8/1/2016

Sparrow CT, Raymer DS, Radhakrishnan SL, Nassif ME, Vader JM, LaRue SJ, Ewald GA. The Effect of Pump Speed Settings on Suspected Pump Thrombosis in Patients Supported with Continuous-Flow Left Ventricular Assist Devices. Journal of Cardiac Failure. 2016; 22(8).

Published on 6/1/2014

Haarberg K, Zitzner J, Radhakrishnan SL, Safdi A, Friedewald J, TamburA. Angiotensin II type-1 receptor antibodies and rejection risk in living donor kidney transplants. American Journal of Transplantation. 2014; 14(3).

Published on 10/1/2009

Gopichand V, Mathew AJ, Radhakrishnan SL, Arulappan N, Christa JA, Jacob S. Knowledge, attitude and practice related to medically unexplained symptoms among physicians. Medical Journal of India. 2009; 22(5).