Scott E. Schaus, PhD
Professor, Chemistry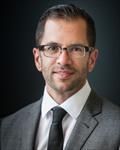 Biography
Professor Schaus received his Ph.D. in Organic Chemistry with Eric N. Jacobsen at Harvard University in 1999 and did postdoctoral studies in Andy Myers' laboratory at Harvard University as an NIH fellow.
Research in the Schaus Group is focused in two major areas: enantioselective catalytic synthetic methodologies for chemical synthesis and biomedical research, the latter conducted at the Boston University Center for Molecular Discovery. Catalytic methods developed in the Schaus Research Laboratories include asymmetric Mannich reactions, enantioselective boronate reactions, and metal-promoted condensation reactions.
Asymmetric Mannich Reactions – The use of cinchona amine, acid, and diol catalysis in the synthesis of chiral amines and heterocycles.
Enantioselective Boronate Catalysis – The development of methodologies to construct chiral building blocks and natural products using boronates.
Biomedical Research – In conjunction with the CMD-BU, advance translational science in the treatment of cancer and infectious disease.
Hepatocellular Carcinoma – Taking on liver cancer in the lab.
Neglected Tropical Disease – BU Researchers Work against Deadly, Disfiguring Disease. Pharmaceutical giant GSK chooses team in its new competition.
Techniques & Resources:
Organic Synthesis techniques are used and include modern methods for synthesis, purification, and analysis of organic molecules.
The Center for Molecular Discovery (CMD-BU) is an NIH-funded Center at Boston University which focuses on development of new methodologies for the synthesis of chemical libraries and biomedical research.
Other Positions
Assistant Professor

,

Pharmacology, Physiology & Biophysics

,

Boston University Chobanian & Avedisian School of Medicine

Member

,

BU-BMC Cancer Center

,

Boston University

Member

,

Evans Center for Interdisciplinary Biomedical Research

,

Boston University
Education
Harvard University

, PhD

Boston University

, DEng

Boston University

, BA