Ruma Kumar, MD
Assistant Professor, Medicine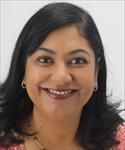 Biography
I grew up in San Jose and have a long history with Kaiser Permanente San Jose Medical Center. As a child, I got my own health care at Kaiser Permanente San Jose and when I became a teenager, I worked as a volunteer there. This experience helped me embark on a future that led me to become a physician.
My interest in helping people manage their health care issues, and doing what it takes to optimize their health is what motivated me to become a physician. I enjoy the people I meet as patients, as well as the people that I work with, and this is what keeps me energized and excited.
I joined the Department of Internal Medicine at Kaiser Permanente San Jose Medical Center in 1995. In 1997, I transitioned into a branch of medicine called hospital medicine. This specialty is involved in taking care of those adult patients who are admitted into the hospital. I find this specialty extremely exciting, challenging and rewarding. I especially enjoy taking care of critically ill patients and helping them on to the road to recovery.
I believe that patients and families should play an integral part in their own health care. The patient, family and I work together and take responsibility for obtaining the best health possible for the patient. I also believe that end-of-life care planning is essential, so that patients wishes are respected at this stage of their lives.
In addition to English, I am also fluent in Hindi.
Other Positions
Kaiser Permanente San Jose Medical Center
Education
University of Southern California School of Medicine

, MD

University of California, Berkeley

, BA