Reiko Matsui, MD
Assistant Professor, Medicine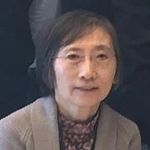 650 Albany St Evans Biomed Research Ctr
Biography
I have been working on oxidative stress and redox signaling in Vascular Biology Section in Chobanian and Avedisian School of Medicine. My current and previous projects are as follows.
– Glutaredoxin and ischemic limb vascularization. In recent years my focus is the roles of glutaredoxin-1 (Glrx) in cardiovascular disease. Glrx regulates cellular signaling and transcription by reversing protein-glutathione adducts. This relatively unexplored enzyme and its targets and function have just emerged as a significant redox signaling mechanism. We identified Glrx as an anti-angiogenic molecule which may suppress hypoxia inducible factor (HIF)-1a activation. We aim to to develop therapeutic strategy to improve poor ischemic limb vascularization in diabetes and aged individuals.
– Tumor angiogenesis: we found mouse melanoma implants growth does not correlate with endothelial angiogenesis in endothelial-specific Glrx transgenic mice. We are developing a new area of Glrx and tumor angiogenesis.
– We also explore Glrx role in liver fibrosis with my collaborators. Glrx-deficient mice develop fatty liver and diet-induced liver fibrosis. Glrx inhibits angiogenesis as well as fibrotic process. Our collaborative paper shows Glrx attenuates lung fibrosis. We aim to examine the Glrx effects on liver fibrosis models.
– In the past, I worked on vascular complications in glucose-6-phosphate dehydrogenase (G6PD) deficiency. G6PD is a key enzyme of the pentose phosphate pathway which contributes to NADPH generation. G6PD deficiency is the most prevalent enzymopathy in humans, and was thought to worsen cardiovascular disease due to oxidative stress and hemolytic anemia. However, we found that angiotensin II –induced cardiovascular hypertrophy was attenuated in G6PD-deficient mice. There are many enzymes that depend on NADPH including the oxidant source, NADPH oxidase, and enzymes in the cholesterol synthesis pathway. We also demonstrated higher blood pressure, less atherosclerosis, lower oxidants and plasma cholesterol in G6PD-deficient mice with apoE-/- background. These studies are actually consistent with clinical reports on G6PD-deficient people, and confirmed a contribution of NADPH oxidase to vascular hypertrophy and atherosclerosis.
Overall, based on my broad clinical experiences in internal medicine, I would like to develop my research to bring benefit to patients.
Other Positions
Member

,

Whitaker Cardiovascular Institute

,

Boston University

Boston Medical Center