Rachel Epstein, MD, MScE
Assistant Professor, Medicine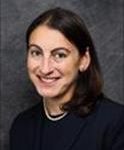 Biography
Rachel L. Epstein, MD, MScE, is a clinician-scientist working to utilize large data sets and decision modelling to inform policy and program design to improve care for individuals with Hepatitis C, HIV, and substance use, with a particular focus on pregnant women and youth.
Dr. Epstein completed combined residency training in internal medicine-pediatrics at Brown University, and worked in primary care through the Providence Community Health Centers and the Hasbro Adolescent Center before fellowship. She completed a combined adult and pediatric infectious diseases fellowship at Boston Medical Center and a T32 post-doctoral research fellowship through the Boston University Clinical HIV/AIDS Research Training Program (BU-CHART). She is an Assistant Professor in the BUSM Department of Medicine, Section of Infectious Diseases, and Department of Pediatrics, Section of Infectious Diseases and sees adult and pediatric patients living with or at risk for Hepatitis C virus, HIV, and other infectious diseases. She also serves as the Med-Peds faculty specific advisor lead for BUSM students.
Dr. Epstein's current and recent work includes projects analyzing the effects of Medicaid HCV treatment restrictions on care cascade outcome achievement, HIV prevention and medication adherence, and comparing the cost-effectiveness of HCV and OUD screening, evaluation, and treatment interventions in women of reproductive age, children, and the general population. She currently or previously works/worked with data through OCHIN, TriNetX, the BMC Datawarehouse and COVID-19 Repository, Marketscan, and the Massachusetts Public Health Datawarehouse.
Other Positions
Assistant Professor

,

Pediatrics

,

Boston University Chobanian & Avedisian School of Medicine
Education
Thomas Jefferson University

, MD

Boston University School of Public Health

, MSc

Wesleyan University

, MA

Wesleyan University

, BA