Quindelyn Cook, MD
Assistant Professor, Pediatrics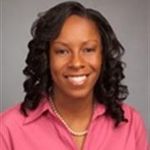 Biography
Dr. Cook is a practicing Allergist-Immunologist in Boston, MA. She is an Assistant Professor in the Department of Pediatrics. Dr. Cook attends on both inpatient adult and pediatric allergy/immunology consultations. She also sees outpatients in the adult and pediatric allergy clinics.
Dr. Cook's clinical interests include food allergies, allergic rhinitis, asthma, and disparities in atopic diseases.
Prior to coming to Boston, Dr. Cook completed an Allergy Immunology fellowship at the University of North Carolina (UNC). During her final year of fellowship, she served as a postdoctoral fellow/clinical instructor in the Department of Pediatrics with the UNC Food Allergy Initiative, a Food Allergy Research and Education Center of Excellence.
Dr. Cook is board-certified in Pediatrics (2016) and Allergy and Immunology (2019).