Piero Marco Fisichella, MD, MBA, FACS
Adjunct Associate Professor, Surgery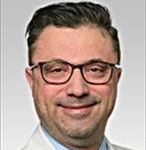 Boston VA Medical Center – 1400 VFW Parkway
Biography
P. Marco Fisichella was raised in Catania, Italy. After graduating from the University of Catania School of Medicine in 1994, he started a General Surgery Residency in Catania and he graduated in 2000. In 1999 he visited the Center for the Study of Gastrointestinal Motility and Secretion at the University of California San Francisco where he subsequently spent 2 years after completing his general surgery training in Italy. In 2000, he started a General Surgery Residency at the University of Illinois at Chicago. After completion of his residency in 2007, he started a fellowship in Minimally Invasive Surgery and Bariatrics at the University of California San Francisco. In 2008 he joined the faculty of the Department of Surgery of Loyola University, Stritch School of Medicine as Assistant Professor and the Director of the Swallowing Center. In 2013 he raised to the rank of Associate Professor. In 2014, he was named Associate Chief of Surgery at the Boston VA Healthcare System, Brigham and Women's Hospital, Harvard Medical School.
Dr. Fisichella's main areas of interest and research involve the application of minimally invasive surgery for the treatment of benign esophageal diseases and the pathophysiology of gastroesophageal reflux disease and other benign esophageal disorders. He has authored over 100 publications in peer-reviewed journals, as well as numerous book chapters, videos and abstracts. He is the co-editor of two books: "The surgical treatment of benign esophageal disorders: the Chicago approach" and "Esophageal diseases: pathophysiology to treatment". He has delivered over 100 research presentations in national and international meetings. He is in Associate Editor of BMC Gastroenterology and in the Editorial Board of 5 peer-reviewed journals in surgery and gastroenterology, including the American Journal of Surgery and the Journal of Surgical Research. He has been Guest Editor for several peer-reviewed journals including Digestive and Liver Diseases and Surgical Laparoscopy Endoscopy and Percutaneous Techniques. He also serves as peer reviewer for 11 journals on surgery and gastroenterology, including Annals of Surgery and JAMA. He has been the recipient of numerous awards and honors including Best Paper by New Member, Central Surgical Association, and Dean's Office Clinical Scholar Award, Loyola University Stritch School of Medicine.
He is member of numerous scientific organizations including the American College of Surgeons, the Society of University Surgeons, the Society for Surgery of the Alimentary Tract, and the International Surgical Society. He directed a $4.5M Simulation Center at Loyola University Stritch School of Medicine and the Surgical Subspecialty Clinics at Hines Jr. VA Medical Center with a combined annual volume of 85,000 clinic visits. Dr. Fisichella also holds a Master in Business and Administration from Northwestern University, Kellogg School of Management.
Other Positions
VA Boston Healthcare System
Education
Università degli Studi di Catania

, MD

Northwestern University

, MBA