Paul A. Monach, MD, PhD
Adjunct Associate Professor, Medicine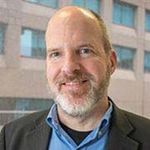 75 E. Newton St Evans Building
Biography
My research is focused on clinical and translational research in vasculitis: biomarkers, genetics, and clinical trials.
I have led studies aimed at identifying new markers that could improve diagnosis, staging, assessment of current disease activity, and predicting the future course of disease, using proteins detectable in the blood or urine and gene expression profiles in blood cells.
I have also led candidate genes studies in vasculitis and has been involved in the planning and recruitment for genome-wide association studies in multiple forms of vasculitis.
I have participated in most multi-center clinical trials conducted over the past 10 years in the US, in various vasculitides.
This work has been conducted through NIH-funded consortia: the Vasculitis Clinical Research Consortium and the RAVE/ITN Study Group. In addition, I have been a member of the Immunological Genome Project Consortium and contributed data on gene expression in mouse neutrophils to that effort.
Other Positions
VA Boston Healthcare System
Education
University of Chicago

, MD

University of Chicago

, PhD

Harvard University

, AB