Paul Maglione, MD, PhD
Assistant Professor, Medicine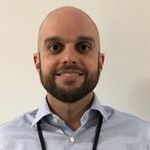 Biography
Background:
Paul J. (PJ) Maglione, MD, PhD is an Assistant Professor of Medicine in the Section of Pulmonary, Allergy, Sleep & Critical Care Medicine at the Chobanian and Avedisian School of Medicine. He is a physician-scientist with expertise in the clinical care of primary immunodeficiencies and runs a laboratory in the Pulmonary Center at the Boston University Medical Campus. Before arriving at the university, Dr. Maglione was an attending physician and researcher at the Icahn School of Medicine at Mount Sinai. He completed his MD/PhD training at the Albert Einstein College of Medicine and internal medicine residency at Mount Sinai Hospital in New York. Also at Mount Sinai, Dr. Maglione undertook fellowship training in clinical immunology and post-doctoral research under the mentorship of Charlotte Cunningham-Rundles, MD, PhD, a renowned expert in common variable immunodeficiency.
Clinical Focus:
Dr. Maglione is an attending physician at Boston Medical Center where he focuses on the diagnosis and treatment of primary immunodeficiency disorders, with special expertise in the care of common variable immunodeficiency and its complications. He also attends on the inpatient allergy/immunology service. Dr. Maglione is involved in the teaching of allergy/immunology clinical fellows in the Chobanian and Avedisian School of Medicine program. He has been invited to speak to patient audiences on numerous occasions by the Immune Deficiency Foundation, including their national conference, and cares for patients with immune deficiency disorders from around the country.
Research Focus:
Dr. Maglione studies human B cell biology through the lens of primary immunodeficiency. Dr. Maglione's clinical focus on antibody deficiency syndromes dovetails with his research focus on mechanisms of B cell dysfunction in humans. For numerous years, he has been investigating mechanisms underlying non-infectious complications of the most prevalent form of symptomatic primary antibody deficiency, common variable immunodeficiency (CVID). Recent work has focused upon the pathogenesis of interstitial lung disease affecting CVID patients, particularly upon the biology of B cell dysfunction in this disease. Dr. Maglione has helped devise therapeutic strategies to treat gastrointestinal and pulmonary complications of common variable immunodeficiency. His research utilizes high throughput strategies that include seromics, antibody arrays, genomics, and RNA sequencing coupled with cell culture, biopsies, and information from the medical record to define how B cell defects shape human disease.
Other Positions
Member

,

Pulmonary Center

,

Boston University

Graduate Faculty (Primary Mentor of Grad Students)

,

Boston University Chobanian & Avedisian School of Medicine, Graduate Medical Sciences
Education
University of Rochester

, BS

Albert Einstein College of Medicine

, MD/PhD