Nyia L. Noel, MD, MPH, FACOG
Assistant Professor, Obstetrics & Gynecology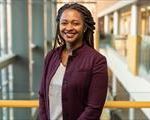 Biography
Dr. Nyia Noel joined Boston Medical Center as the Director of Minimally Invasive Gynecologic Surgery and Assistant Professor of Obstetrics and Gynecology at Chobanian and Avedisian School of Medicine. Prior to this, she completed a fellowship in Minimally Invasive Gynecologic Surgery at Newton-Wellesley Hospital. Her clinical and research interests include fibroids, endometriosis, disparities in maternal morbidity and mortality, and health care access and systems delivery.
In July 2021, Fibroid Awareness Month, Dr. Noel founded The Fibroid Center at Boston Medical Center which focuses on exceptional care, patient advocacy and research through centering the patient voice.
Dr. Noel also serves as a co-investigator for the All of Us Research Program at Boston Medical Center/Boston University Medical Center through which she works to increase enrollment of underrepresented groups in research. Prior to founding the Fibroid Center, Dr. Noel worked with The Prenatal Aspirin Project to promote the use of low dose aspirin in pregnancy to decrease black maternal morbidity and mortality by decreasing the occurrence of pre-eclampsia, preterm birth and growth restriction in high risk women.
Education
University of Michigan Medical School

, MD

University of Michigan School of Public Health

, MPH

Columbia University

, BA
Publications
Published on 5/4/2023

Wesselink AK, Wegienka G, Coleman CM, Geller RJ, Harmon QE, Upson K, Lovett SM, Claus Henn B, Marsh EE, Noel NL, Baird DD, Wise LA. A prospective ultrasound study of cigarette smoking and uterine leiomyomata incidence and growth. Am J Obstet Gynecol. 2023 Aug; 229(2):151.e1-151.e8. PMID: 37148957.

Read at: PubMed

Published on 1/1/2022

Fowler ML, Pokuaa I, Delgado S, Hendessi P, Memmo E, Iverson RE, White K, Noel NL. Implementation of same-day discharge in minimally invasive gynecologic surgery in a safety-net hospital. Indian J Surg. 2022.

Read at: Custom

Published on 12/23/2021

Clark CR, Chandler PD, Zhou G, Noel N, Achilike C, Mendez L, O'Connor GT, Smoller JW, Weiss ST, Murphy SN, Ommerborn MJ, Karnes JH, Klimentidis YC, Jordan CD, Hiatt RA, Ramirez AH, Loperena R, Mayo K, Cohn E, Ohno-Machado L, Boerwinkle E, Cicek M, Schully SD, Mockrin S, Gebo KA, Karlson EW. Geographic Variation in Obesity at the State Level in the All of Us Research Program. Prev Chronic Dis. 2021 12 23; 18:E104. PMID: 34941480.

Read at: PubMed

Published on 6/22/2021

Chandler PD, Clark CR, Zhou G, Noel NL, Achilike C, Mendez L, Ramirez AH, Loperena-Cortes R, Mayo K, Cohn E, Ohno-Machado L, Boerwinkle E, Cicek M, Qian J, Schully S, Ratsimbazafy F, Mockrin S, Gebo K, Dedier JJ, Murphy SN, Smoller JW, Karlson EW. Hypertension prevalence in the All of Us Research Program among groups traditionally underrepresented in medical research. Sci Rep. 2021 06 22; 11(1):12849. PMID: 34158555.

Read at: PubMed

Published on 2/1/2021

Fowler ML, Hendessi P, Noel NL. 50 Studies Every Obstetrician-Gynecologist Should Know. Predictors of Success of Methotrexate Treatment for Tubal Ectopic Pregnancies. Oxford University Press. 2021.

Published on 2/5/2020

Levin SR, de Geus SWL, Noel NL, Paasche-Orlow MK, Farber A, Siracuse JJ. Vascular repairs in gynecologic operations are uncommon but predict major morbidity and mortality. J Vasc Surg. 2020 09; 72(3):1059-1066.e2. PMID: 32035777.

Read at: PubMed

Published on 2/8/2019

Noel N, Salazar CA, Isaacson K, Munro MG. Reconstructive and Reproductive Surgery in Gynecology (Munro MG and Gomel V eds.) . Complications of surgery of the female reproductive tract. CRC Press. 2019; Volume Two.

Published on 12/25/2015

Noel NL, Isaacson KB. Morcellation complications: From direct trauma to inoculation. Best Pract Res Clin Obstet Gynaecol. 2016 Aug; 35:37-43. PMID: 26879674.

Read at: PubMed

Published on 10/15/2015

Noel NL, Isaacson KB. Review of Outcomes of Patients Treated for Intrauterine Adhesions With Office Hysteroscopy and Hormone Replacement Therapy. J Minim Invasive Gynecol. 2015; 22(6S):S184-S185. PMID: 27678980.

Read at: PubMed