Nitigna Vikas Desai, MD
Voluntary Clinical Assistant Professor, Psychiatry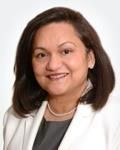 Biography
Dr. Desai completed medical school in India and her residency training in Psychiatry at Mass. Mental Health Center /Harvard Medical School in Boston from 1988-1991. She completed her fellowship in Addiction Psychiatry at Massachusetts General Hospital/Harvard Medical School in 1992. Dr. Desai is board certified in Adult Psychiatry with an added certification in Addiction Psychiatry from ABPN.
Other Positions
Bedford VA - Edith Nourse Rogers Memorial VA Hosp
Education
South Gujarat University

, MD

South Gujarat University

, MBBS
Publications
Published on 12/2/2017

Kelly MM, Reilly E, Quiñones T, Desai N, Rosenheck R. Long-acting intramuscular naltrexone for opioid use disorder: Utilization and association with multi-morbidity nationally in the Veterans Health Administration. Drug Alcohol Depend. 2018 02 01; 183:111-117. PMID: 29245103.

Read at: PubMed

Published on 11/1/2017

Desai N, Kraus SW, Houchins JR. Factors to Consider for Reducing US Opioid-Related Deaths: Looking Beyond Access. JAMA Psychiatry. 2017 11 01; 74(11):1171. PMID: 28903166.

Read at: PubMed

Published on 1/1/2002

Rinn, W., Desai, N., Rosenblatt, H., & Gasfried, D. R. Addiction denial and cognitive dysfunction: A preliminary investigation. Journal of Neuropsychiatry and Clinical Neuroscience. 2002; 14(1):52-57.

Published on 1/1/1997

Sharon, E., Desai, N., Krebs, C., Drebing, C, & Penk, W. Substance abuse and psychiatric service utilization during systemic resource redistribution. In (Gastfriend, D. R, Ed.). Addiction Treatment Matching . 1997; 79-93.