Nicole L Spartano, PhD
Assistant Professor, Medicine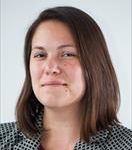 Biography
Nicole Spartano, PhD is an Assistant Professor of Medicine in Endocrinology, Diabetes, Nutrition and Weight Management at the Chobanian and Avedisian School of Medicine. She serves as the Director of the Glucose Monitoring Station at the Framingham Heart Study. This study is funded through an R01 from the National Institute of Diabetes and Digestive and Kidney Diseases (Spartano, PI) to use continuous glucose monitors in a non-diabetic population to measure glucose patterns that may predict the development of diabetes. She also serves as the Co-Director of the Physical Activity Station at the Framingham Heart Study, overseeing data collection using accelerometers (fitness trackers). She has received funding from the American Heart Association and Alzheimer's Association to understand the impact of physical activity throughout the lifecourse on brain health and the risk for dementia and Alzheimer's disease.
Dr. Spartano also has a major research interest in using mobile health technology to improve health in underserved patient populations at Boston Medical Center. She is exploring the use of continuous glucose monitors as a tool for enhancing lifestyle interventions in patients with and without diabetes mellitus. She shares a MPI role on a Focused Research Project funded by Boston University's Hariri Institute, which facilitates collaborations of clinical and computational investigators. This team is developing a software platform that can continuously collect mobile health data from research participants and patients. The goal of creating this platform is to address challenges in privacy and in providing timely communication to medically vulnerable patients.
Dr. Spartano also teaches courses for Boston University Graduate Medical Sciences, School of Public Health, and Sargent College of Health Sciences.
Other Positions
Investigator

,

Framingham Heart Study

Member

,

Evans Center for Interdisciplinary Biomedical Research

,

Boston University

Graduate Faculty (Primary Mentor of Grad Students)

,

Boston University Chobanian & Avedisian School of Medicine, Graduate Medical Sciences
Education
Tufts University

, PhD

Tufts University

, MS

Syracuse University

, BS
Classes Taught
GMSNU620
GMSNU711
SARHS742
SPHEP758