Mohamad Abdalkader, MD
Associate Professor, Radiology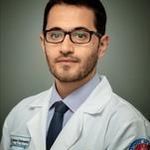 Biography
Dr. Mohamad Abdalkader is a board-certified diagnostic and interventional Neuroradiologist at Boston Medical Center and an Assistant Professor of Radiology at the Chobanian and Avedisian School of Medicine.
Dr. Abdalkader received his medical degree from Lebanese University – Faculty of Medical Sciences in Beirut, Lebanon in 2011. He completed a residency in Radiology at the Lebanese University in Beirut and at the Universite Catholique de Louvain in Belgium from 2011 to 2016 with dedicated training in interventional and neurointerventioal radiology. He was awarded diplomas in Radiology Specialty and Interventional Radiology from Europe. He also completed an ACGME-accredited diagnostic neuroradiology and interventional neuroradiology fellowships at BMC before joining as an attending physician in 2018.
Dr. Abdalkader serves as a key member of the BMC department of Radiology, section of diagnostic and interventional neuroradiology. His experience and multidisciplinary cross training in radiology, interventional radiology, interventional neuroradiology in Lebanon, Europe and USA provide him with unparalleled expertise in patient care in the field of interventional neuroradiology. At BMC, he is responsible for evaluating patients and their imaging and performing neuroendovascular procedures with the highest degree of technical angiographic skills including acute stroke intervention, intracranial aneurysm coiling, intracranial stenting, carotid stenting, endovascular treatment of arteriovenous malformations and arteriovenous fistula, vertebroplasty/kyphoplasty, and endovascular treatment of pulsatile tinnitus.
Dr. Abdalkader has over 100 publications and has served as an investigator in several research projects including acute stroke management, cerebral aneurysms, and intracranial vascular malformations, pulsatile tinnitus, traumatic vascular injuries.
Dr. Abdalkader was invited speaker at many national and international radiology, interventional radiology, and interventional neuroradiology meetings. He has been a reviewer and associate editor of several journals.
Dr. Abdalkader serves as an independent imaging adjudicator for stroke and artificial intelligence studies.