Micah Eades, MD
Adjunct Instructor, Medicine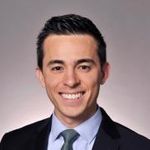 Publications
Published on 7/21/2021

Eades MT, Tsanas A, Juraschek SP, Kramer DB, Gervino E, Mukamal KJ. Smartphone-recorded physical activity for estimating cardiorespiratory fitness. Sci Rep. 2021 07 21; 11(1):14851. PMID: 34290291.

Read at: PubMed

Published on 4/17/2019

Eades MT, Paixao ARM, Mehta A, Ayers CR, Joshi PH, Berry JD, de Lemos JA, Khera A. Characterization and Trajectory of Coronary Artery Calcium Percentiles: The Dallas Heart Study. JACC Cardiovasc Imaging. 2019 07; 12(7 Pt 1):1290-1292. PMID: 31005534.

Read at: PubMed

Published on 3/5/2019

Eades MT, Juraschek SP, Gervino EV, Mukamal KJ. Validation of Smartphone-Recorded Physical Activity for Predicting Cardiorespiratory Fitness. 2019.

Published on 4/1/2017

Eades MT, Lu C, Mufti A. Journal of General Internal Medicine. Baking Soda Tetany – Toxicity of a Half-Baked Remedy. 2017.