Meenakshi B Kumar, MBBS
Assistant Professor, Family Medicine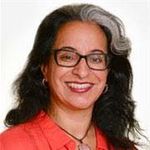 Biography
Meenakshi Kumar, MBBS is a Clinical Assistant Professor of Family Medicine at the Chobanian and Avedisian School of Medicine. She began her career as an instructor after completing a residency and two fellowships: one in palliative care and another in medical ethics, both at the University of Chicago. Dr. Kumar has lectured on functional medicine and integrative health to students and residents.
Publications
Published on 1/1/2005

Bhola MK. Opportunities: The National Conference of Special Constituencies. Massachusetts Family Physician. 2005.

Published on 1/1/2001

Bhola M.K, Kessler J, Lee K. Griffith's 5 Minute Clinical Consult. Venereal Warts. 2001.