Mark D. Mamlouk, MD
Adjunct Clinical Assistant Professor, Radiology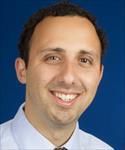 Biography
Dr. Mamlouk received a BSE in electrical engineering from Arizona State University and his medical degree from The University of Arizona. He completed his radiology residency at the University of California, Irvine and became board-certified in radiology in 2013. From 2013-2015, he completed a two-year fellowship in neuroradiology at UCSF, where he was chief fellow. In 2015, he joined Kaiser Permanente in Santa Clara, working as a neuroradiologist.
Dr. Mamlouk's research interests include many areas within neuroradiology, including cutaneous vascular anomalies, adult & pediatric head/neck, and spine procedures. He is trained in multiple spine interventions, including nerve, facet, and epidural blocks, as well as biopsies, myelograms, lumbar punctures, RF ablations, and epidural blood patches. He has unique training and research in pudendal nerve blocks for pudendal neuralgia. In addition, he is interested in radiology policy, dictation reporting, quality control, and methods to improve the radiologist-clinician relationship.
One of Dr. Mamlouk's passions is providing care for children and adults with birthmarks and cutaneous vascular anomalies, including hemangiomas, kaposiform hemangioendotheliomas, venous malformations, lymphatic malformations, AVM/AVF, and PHACE syndrome.
Dr. Mamlouk enjoys teaching medical students, residents, and fellows at Kaiser Permanente, and serves in a similar role at UCSF and Boston University, where he is an adjunct clinical assistant professor. He is vested in clinical research to improve patient care, and as a physician and radiologist he is committed to providing excellent patient care, whether interpreting an MRI or performing a biopsy.
Other Positions
Kaiser Permanente Santa Clara Medical Center
Education
University of Arizona College of Medicine

, MD

Arizona State University

, BSE