Marilyn L. Moy, MD
Adjunct Assistant Professor, Medicine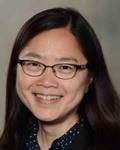 72 E. Concord St Building A
Biography
Marilyn L. Moy, M.D., M.Sc., Associate Professor of Medicine, Harvard Medical School, is a Staff Pulmonary Physician at VA Boston Healthcare System. She is Medical Director of the Pulmonary Rehabilitation Program, accredited by the American Association of Cardiovascular and Pulmonary Rehabilitation. Dr. Moy studies the role of physical activity (PA) in the risk stratification of COPD, technology-based interventions to promote PA, and the biological mechanisms underlying the beneficial effects of PA on COPD outcomes. Her work has contributed to the field of telehealth medicine.
Dr. Moy is internationally recognized as an expert in Pulmonary Rehabilitation. She was the 2016-2017 Chair of the Program Committee of the Rehabilitation Assembly of the American Thoracic Society. She has been an invited speaker at the European Respiratory Congress in Munich, Germany and Amsterdam, Holland. She serves on the Research Advocacy Committee of the ATS.
As the Principal Investigator on VA and NIH funded grants, Dr. Moy published one of the first papers demonstrating that low PA is associated with increased risk for acute exacerbations in COPD. Dr. Moy has developed a novel internet-mediated, pedometer based intervention to promote PA in COPD. Her work was recognized with the 2017 Massachusetts Pulmonary Section award for best clinical research abstract. Dr. Moy also examines biological mechanisms including the relationship between PA and telomere length, and the epigenetic changes associated with improvements in PA. Dr. Moy is VA Boston's 2017 nominee for the Presidential Early Career Award for Scientists and Engineers.
Dr. Moy is a Co-Investigator for a pragmatic trial examining a PA coaching intervention (PCORI), and a trial on the efficacy of Tai Chi to maintain benefits after conventional pulmonary rehabilitation in COPD (NIH-NCCIH). Dr. Moy has been the site-PI for NHLBI clinical trials.
Other Positions
VA Boston Healthcare System
Education
Harvard Medical School

, MD

Harvard School of Public Health

, MSc

Radcliffe College

, AB