Ludwine D. Paul, MSN, ACNP-BC, AACC
Assistant Professor, Medicine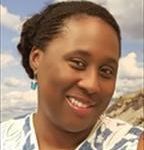 Biography
Ludwine D. Paul, MSN, ACNP-BC, AACC is an Assistant Professor of Cardiovascular Medicine, Associate of the American College of Cardiology (AACC) and a Nurse Practitioner within the Cardiomyopathy Department at Boston Medical Center/ Chobanian and Avedisian School of Medicine. Her interests are heart failure management, patient education and mentoring/precepting nurse practitioner students from surrounding Universities and Colleges in Massachusetts. She is a member of the Medical-Dental Staff Clinicians Council committee and the Re-admissions Strategy Working Group, the later aiming at improving heart failure re-admissions at Boston Medical Center.
Following graduation from Northeastern University as a Nurse Practitioner, Ludwine joined the Cardiology Group at Signature-Healthcare Brockton Hospital where she worked in various clinical and managerial roles over the course of 8 years including being the co-founder of their Advanced Heart Failure Program with Dr. Alyson Kelley-Hedgepeth. Prior to joining Chobanian and Avedisian School of Medicine, Ludwine worked as Director of Nursing for the Adult Services at the May Institute Inc. covering the Northeast, Western Mass and Florida divisions. May Institute is a nonprofit organization with its corporate headquarters in Randolph, MA that provides a wide range of community-based services, educational, rehabilitative, and behavioral healthcare for adults of all ages with autism spectrum disorder and other developmental disabilities. Ludwine worked on standardization of nursing practices in collaboration with Quality Improvement and Human Resources Departments in regards to systems, standard operation procedures, documentation, nursing forms, job title, and work performance. Initiated residential nursing services in certain programs to improve health outcomes, and mentored non-allied staff on health-related matters. She initiated recognition of Nurses' week in 2014 shortly after joining the institute and was an active member of different committees within the organization.
Ludwine is fluent in Haitian-Creole and is an Approved Bilingual Provider ID # ABP351. She often provides health related lectures for the Haitian community upon request.
Education
Northeastern University

, MSN
Publications
Published on 7/24/2023

Madhani A, Sabogal N, Massillon D, Paul LD, Rodriguez C, Fine D, Helmke S, Winburn M, Kurian D, Raiszadeh F, Teruya S, Cohn E, Einstein AJ, Miller EJ, Connors LH, Maurer MS, Ruberg FL. Clinical Penetrance of the Transthyretin V122I Variant in Older Black Patients With Heart Failure: The SCAN-MP (Screening for Cardiac Amyloidosis With Nuclear Imaging in Minority Populations) Study. J Am Heart Assoc. 2023 Aug; 12(15):e028973. PMID: 37486082.

Read at: PubMed