Laura Lowery, PhD
Associate Professor, Medicine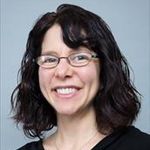 Biography
Professor Laura Lowery discovered her love of academia and biomedical research while an undergrad at the University of California, San Diego. In the lab of Dr. Bill Schafer, she studied the neural circuitry underlying worm egg-laying behavior. In 2008, Prof Lowery received her PhD from the Massachusetts Institute of Technology, working in the lab of Dr. Hazel Sive at the Whitehead Institute, where she pioneered research studying early brain ventricle morphogenesis. Prof Lowery then did post-doctoral research in the Department of Cell Biology at Harvard Medical School, in the labs of Dr. David Van Vactor and Dr. Gaudenz Danuser, where she became fascinated by the inner workings of the neuronal growth cone and axon guidance. She began as an Assistant Professor at Boston College in 2014, she was promoted to Associate Professor in 2018, and she moved to Boston University Medical Center in 2020.
Prof. Lowery leads a comprehensive, multi-faceted research program that investigates how cytoskeletal dynamics are regulated to drive cell motility in both normal and pathological conditions. Her lab uses this research focus as a platform to further the understanding of the cell biological defects that underlie neurodevelopmental disorders, various developmental disorders affecting other organ systems, as well as cancer metastasis, using Xenopus laevis as a model system. Her long-term goal is to continue to expand on this work, as well as collaborate with other cell and developmental biologists to elucidate mechanisms underlying complex cell biological processes.
The lab currently consists of one postdoctoral associate, one research technician, and several undergraduate students. We are a group of enthusiastic and motivated researchers excited about making a positive difference in the world. The lab's research has been funded by multiple external grants from the NIH, NSF, American Cancer Society, the Ellison Foundation, and the March of Dimes foundation. Please check out the lab's website (lowerylab.org) for more information.
Prof Lowery also serves as the Associate Chief for Faculty Affairs for the Section of Hematology and Medical Oncology.
In addition to her research interests, Prof Lowery is involved in service related to promoting anti-racism in the BU community. She is the Director of Diversity Equity and Inclusion for the Hem Onc Section, Chair of the Section Anti-Racism Steering Committee, the Hem Onc representative to the Racial Equity Champions Committee for BUMG, and a trained facilitator for the LIFT microaggression bystander training workshop. She was also a participant in the BU Mid-Career Faculty Leadership Program 2022-2023.
Education
Massachusetts Institute of Technology

, PhD

University of California, San Diego

, MS

University of California, San Diego

, BS