Kathleen Swenson, MS, MPH, CGC
Clinical Associate Professor, Medical Sciences & Education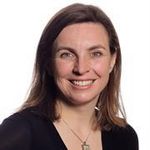 72 East Concord Street, Evans 256
Biography
Kathleen (Berentsen) Swenson, MPH, MS is a Clinical Associate Professor of Medical Sciences & Education at the Chobanian and Avedisian School of Medicine and Director of the Boston University Master's Program in Genetic Counseling. Kathleen began working with the Genetic Counseling Program in 2010 as a course instructor and capstone mentor. She has 23 years of experience in genetic counseling in various clinical settings across many specialties (prenatal, pediatrics, neurology and cancer). Kathleen is an experienced educator and clinician across a broad spectrum of genetic counseling domains, ranging from prenatal genetic counseling to the development of a telephone-based counseling platform. Most recently, she worked at Counsyl, Inc. as a Clinical Product Specialist where she oversaw education for hereditary cancer genetics and mentorship of graduate students and internal employees. Prior to that, Kathleen served as a genetic counselor at Beth Israel Deaconess Medical Center in their Cancer Genetics and Prevention Program. Kathleen earned her undergraduate degree in Natural Sciences and Psychology from Muhlenberg College, her Master's Degree in Human Genetics from Sarah Lawrence College, and a Master's Degree in Public Health from Columbia University.
Other Positions
Program Director

,

Genetic Counseling Program

,

Boston University Chobanian & Avedisian School of Medicine, Graduate Medical Sciences

Graduate Faculty (Primary Mentor of Grad Students)

,

Boston University Chobanian & Avedisian School of Medicine, Graduate Medical Sciences
Education
Columbia University

, MPH

Sarah Lawrence College

, MS

Muhlenberg College

, BS
Classes Taught
GMS GC605
GMSGC601
GMSGC605
GMSGC606
GMSGC711
GMSGC712
GMSGC714
Publications
Published on 1/24/2020

Hoffman JD, Thompson R, Swenson KB, Dasgupta S. Complexities of Clinical Genetics Consultation: An Interprofessional Clinical Skills Workshop. MedEdPORTAL. 2020 01 24; 16:10869. PMID: 32342009.

Read at: PubMed

Published on 10/30/2019

Means C, Cirino A, Swenson KB, Austin J. "I am a Genetic Counselor": A qualitative exploration of field leaders' perceptions of the title "genetic counselor". J Genet Couns. 2020 02; 29(1):97-104. PMID: 31663200.

Read at: PubMed

Published on 6/30/2016

Mehta N, Lazarin GA, Spiegel E, Berentsen K, Brennan K, Giordano J, Haque IS, Wapner R. Tay-Sachs Carrier Screening by Enzyme and Molecular Analyses in the New York City Minority Population. Genet Test Mol Biomarkers. 2016 Sep; 20(9):504-9. PMID: 27362553.

Read at: PubMed

Published on 1/1/2005

Berentsen K (Contributing author). Ancestry Based Carrier Screening. National Society of Genetic Counselors, Prenatal Special Interest Group. 2005.

Published on 1/1/2003

Singh S, Henshaw SK, Berentsen K. chapter in volume of papers from Seminar on Socio-cultural and Political Aspects of Abortion from an Anthropological Perspective, Alaka Base (ed.). "Abortion: A Worldwide Overview". Greenwood Press. 2003.

Published on 1/1/2001

Henshaw SK, Hass T, Berentsen K, Carbone E. Abortion Factbook. The Alan Guttmacher Institute. 2001.