Katelyn Bird, MD
Assistant Professor, Neurology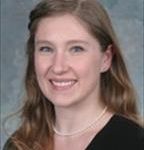 Biography
Dr. Katelyn Bird is a board-certified Neurologist and Movement Disorder Specialist at Boston Medical Center. She obtained her undergraduate degree in Biological Sciences with a Neuroscience Specialization at the University of Chicago before completing her Doctor of Medicine at Indiana University School of Medicine. She completed her internship and neurology residency at Boston Medical Center, serving as chief resident in her final year. She is currently completing her Movement Disorder Fellowship at Boston Medical Center and will be joining as a full-time faculty member in fall 2020.
She specializes in the diagnosis and management of individuals who have Parkinson's disease (PD), atypical Parkinson's disease, tremor, Huntington's disease, dystonia, ataxia, and other movement disorders. She is experienced in Deep Brain Stimulation for Movement Disorders including patient selection, evaluation, and post-operative programming. She is skilled in the use of botulinum toxin injections for movement disorders and migraine.
Dr. Bird's research interests include Quality Improvement (QI) to analyze practice performance and enhance the way care is delivered to patients. She is a co-investigator of the FIRE-UP PD project, studying Parkinson's disease in patients from underserved populations.
Education
Indiana University School of Medicine

, MD

University of Chicago

, AB
Publications
Published on 4/27/2020

Bird K, Saint-Hilaire M, Curiale G, O'Shea SA. Development of Hypertrophic Olivary Degeneration following Pontine Hemorrhage. Ann Neurol. 2020 06; 87(6):809-810. PMID: 32339325.

Read at: PubMed

Published on 1/30/2012

Rudra JS, Sun T, Bird KC, Daniels MD, Gasiorowski JZ, Chong AS, Collier JH. Modulating adaptive immune responses to peptide self-assemblies. ACS Nano. 2012 Feb 28; 6(2):1557-64. PMID: 22273009.

Read at: PubMed