Karin Schon, PhD
Associate Professor, Anatomy & Neurobiology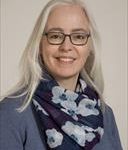 72 E. Concord St Housman (R)
Biography
Karin Schon, Ph.D., received a joint B.A./M.A. degree in Psychology from the University of Hamburg in Germany in 1998, and her Ph.D. from the Department of Psychological and Brain Sciences at Boston University in 2005. Her dissertation focused on functional neuroimaging studies of working memory and long-term (episodic) memory formation under the mentorship of Prof. Chantal Stern. She then continued her work with Prof. Stern as a Postdoc. In 2010 she received a K99/R00 Pathway to Independence award from the National Institute on Aging to investigate the effects or cardio-respiratory fitness and exercise on the function and structure of the medial temporal hippocampal memory system. In May 2013 she joined the Department of Anatomy & Neurobiology at the Chobanian and Avedisian School of Medicine as an Assistant Professor where she is the Director of the Brain Plasticity and Neuroimaging Laboratory.
Dr. Schon's brain plasticity research focuses on modulators of the medial temporal hippocampal system across the lifespan. Currently, she investigates the role of aerobic fitness/exercise, aging, and chronic psychosocial stress, as modulators of cognitive function and brain health in aging and Alzheimer's disease and in emerging adults. With her cognitive neuroscience research on chronic psychosocial stress she aims to take an anti-racist perspective by focusing on the impact of interpersonal, institutional/structural and cultural racism on brain health in older Black/African Americans and Black/African American emerging adults. The long-term goal of this research is to understand social and environmental determinants of brain and mental health across the lifespan and to contribute to health policy change from a cognitive neuroscience perspective with the goal to eliminate brain health inequities.
Methods used include: Task-based, resting-state and high-resolution fMRI, structural MRI, cognitive testing, neuropsychology, exercise testing and training, and biomarker assays (e.g. neurotrophins, such as BDNF, IGF-1, and VEGF; salivary cortisol, allostatic load).
Other Positions
Assistant Professor

,

Neuroscience

,

Boston University College of Arts and Sciences

Assistant Professor

,

Psychological and Brain Sciences

,

Boston University College of Arts and Sciences

Member

,

Evans Center for Interdisciplinary Biomedical Research

,

Boston University

Graduate Faculty (Primary Mentor of Grad Students)

,

Boston University Chobanian & Avedisian School of Medicine, Graduate Medical Sciences
Education
Boston University

, PhD

Universität Hamburg

, MA

Universität Hamburg

, BA