Jose Rafael Romero, MD
Associate Professor, Neurology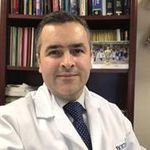 75 E. Newton St Collamore Building
Biography
Dr. Romero completed residency training in neurology at Boston University Medical Campus and fellowship training in vascular neurology at Boston University Medical Campus. He received his medical degree from the Escuela Cololmbiana de Medicina in Colombia. He also completed studies for a Master in Epidemiology at Boston University School of Public Health.
Dr. Romero is an active investigator in the Framingham Heart Study since 2006.
Research Interests
Dr. Romero's research interests center on the study of cerebrovascular disease in subclinical stages, prevention of stroke, cognitive impairment and dementia and use of neuroimaging in the epidemiological study of cerebrovascular disease. His focus is in the interplay of cerebrovascular disease with the neurodegenerative process, and contributions to clinical stroke and dementia. Much of his current work centers on the epidemiological study of brain MRI markers of cerebral small vessel disease, their determinants and clinical consequences. As a board-certified neurologist and vascular neurologist, his clinical interests are in the prevention, diagnosis, treatment and rehabilitation of patients with stroke, with particular emphasis in racial minority populations. He runs a stroke prevention clinic and is an active member in the Stroke Unit at Boston Medical Center. He is the site PI of several clinical trials for acute stroke treatment and secondary prevention. He has written widely on stroke, cerebrovascular disease in subclinical stages, and epidemiology of stroke and dementia. He has participated as study section reviewer in the NIH- and has obtained grant funding from NIH-NIA for his research support. Dr. Romero has presented the results of his research widely at national and international level and has been invited to participate in several international consortia of experts in cerebrovascular disease. Dr. Romero has contributed significantly to our understanding of cerebral microbleeds in the general population and is now leading the study of enlarged perivascular spaces in the Framingham Heart Study cohorts.
Other Positions
Investigator

,

Framingham Heart Study
Education
Escuela Colombiana de Medicina

, MD