Jonathan Santiago, MD
Assistant Professor, Emergency Medicine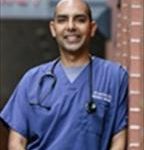 Biography
Jon Santiago, MD is an ER doctor at Boston Medical Center and a captain in the U.S. Army Reserve and has been deployed overseas. Previously, Jon volunteered for the Peace Corps, organizing sugarcane workers and communities in the Dominican Republic; won a Fulbright Scholarship to study in Paris; and ultimately spent almost five years abroad working across Europe, Latin America, and Africa.
Currently, beyond his work as an ER physician, Jon has fought to address health disparities and combat the opioid epidemic as a state representative in the Massachusetts Legislature. Jon secured millions of dollars for his neighborhood to address the opioid crisis, helped to preserve and expand affordable housing, and worked to pass a once-in-a-generation education reform bill. Jon also successfully lobbied the MBTA to preserve the #43 MBTA bus, protecting vital public transportation serving seniors and vulnerable communities. Jon is proud to have been a leader in one of the most productive and progressive legislative sessions in recent memory.
During the COVID-19 pandemic, Jon has been one of the city's leading voices informing and educating the public. In addition to doubling his hours in the emergency room, Jon served as a member of the House of Representative COVID-19 Working Group to advise policy making and ensure state government accountability. Jon is actively working with community leaders across the city and has filed legislation to ensure equitable distribution of vaccinations to working families and communities of color throughout the city.
Education
Yale University School of Medicine

, MD

University of Washington School of Public Health

, MPH

University of Texas at Austin

, BA
Publications
Published on 6/10/2014

Santiago J, Mansbach JM, Chou SC, Delgado C, Piedra PA, Sullivan AF, Espinola JA, Camargo CA. Racial/ethnic differences in the presentation and management of severe bronchiolitis. J Hosp Med. 2014 Sep; 9(9):565-72. PMID: 24913444.

Read at: PubMed