John V Wylie, MD, FACC
Adjunct Associate Professor, Medicine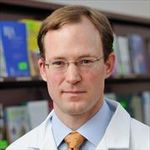 Biography
Areas of research interest include atrial fibrillation ablation and integration of imaging techniques into electrophysiology procedures. He has previously performed extensive collaboration between
electrophysiology and cardiac magnetic resonance imaging. This involved a number of ongoing research projects in cardiac imaging for electrophysiology procedures.
From 2005-2007, he managed a large database of patients undergoing atrial fibrillation ablation designed to evaluate outcomes of this procedure, and subsequently served as the Principal Investigator and supervised fellows in management of this database from 2007-2008.
He has served as a site Principal Investigator in a number of multicenter trials, including the Attain-Success trial, from 2010-2012, the ACUITY trial, from January, 2016 –
present, and the GLORIA-AF trial, from February, 2015 – present. His primary research interests are in ablation and diagnostic techniques in clinical electrophysiology, specifically atrial flutter and atrial fibrillation.
Other Positions
St. Elizabeth's Medical Center
Education
Harvard Medical School

, MD

Harvard College

, AB