Jacob Evans, DO
Instructor, Family Medicine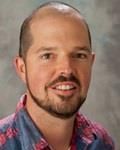 Biography
In the eleventh grade, my love for travel and health led me to Honduras. I worked for a non-profit organization called Amigos de las Americas, building latrines and giving lessons pertaining to general health and sanitary measures. I learned that I really enjoyed working with people and teaching them about their bodies and health.
I learned how important our educators are and that teaching is what really inspires me. I enjoy working with the adolescent and pediatric populations. I am completing a UC San Francisco Faculty Development Fellowship Program to help better teach these students and residents.
I believe it is my responsibility to teach my patients about their bodies and about any disease process going on within them, as well as teaching them that exercise and eating healthy is one of the recipes to preventing and fighting illness, and in making the aging process an easier one. As an avid sports aficionado, I have a personal interest in sports medicine and I believe that exercise is medicine.
I believe that the human body has a great ability to self-heal and it is my job to help bring the body as close to its ideal mechanics as possible to allow itself to heal. Although I do not practice osteopathic manipulation in my practice, I do believe in its principles and that it has great application for most patients with musculoskeletal and non-musculoskeletal issues. Although there is a time and place for narcotic medications, I don't believe in the use of narcotics for the treatment of long-term chronic pain. I believe in the practice of complimentary and alternative medicine to help create homeostasis in the body.
I teach medical students in my clinical practice and am proud to be faculty for our Family Medicine Residency program starting July 2018. With this new role, I will be training Family Physicians of the future.
Other Positions
Kaiser Permanente San Jose Medical Center
Education
Touro College

, DO

University of California, San Diego

, BS
Publications
Published on 8/1/2000

Durso R, Evans JE, Josephs E, Szabo G, Evans B, Fernandez HH, Browne TR. Variable absorption of carbidopa affects both peripheral and central levodopa metabolism. J Clin Pharmacol. 2000 Aug; 40(8):854-60. PMID: 10934669.

Read at: PubMed

Published on 12/15/1999

Watkins MT, Patton GM, Soler HM, Albadawi H, Humphries DE, Evans JE, Kadowaki H. Synthesis of 8-epi-prostaglandin F2alpha by human endothelial cells: role of prostaglandin H2 synthase. Biochem J. 1999 Dec 15; 344 Pt 3:747-54. PMID: 10585861.

Read at: PubMed

Published on 9/1/1997

Durso R, Evans JE, Josephs E, Szabo GK, Evans BA, Handler JS, Jennings D, Browne TR. Central levodopa metabolism in Parkinson's disease after administration of stable isotope-labeled levodopa. Ann Neurol. 1997 Sep; 42(3):300-4. PMID: 9307250.

Read at: PubMed