Hemali Sudhalkar, MBBS, MPH
Instructor, Medicine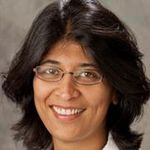 801 Massachusetts Ave Crosstown Center
Biography
I studied medicine at the Baroda Medical College in India. I moved to the United States in 1995, arriving in Ann Arbor, Michigan. At the University of Michigan, I was lucky enough to find work as a research fellow, and carried out some very fascinating clinical research. This experience proved so rewarding to me personally, that I decided to study research methods further. At Emory University, I enrolled in the Rollins School of Public Health, obtaining an Master of Public Health (MPH) in Epidemiology.
Internal medicine has become a very interesting field of medical practice in recent years. Internists get a broader overview of the healthcare spectrum than do specialists; and yet, medicine has advanced to the point where internal medicine has become a challenging speciality in itself!
My personal clinical interests include medical ethics, evidence-based medicine and preventive medicine.
All physicians want to make their patients comfortable, treat them well, and get them healthy and out of the hospital. This only happens when the physician and patient understand each other well. Therefore, clear communication is very important.
I aim to be open and accessible to my patients and answer all questions they have about their illness, hospital care, and follow-up care. I also believe in bringing to my patients the best, most professionally advanced care I possibly can. To this end, I strive to keep my practice as evidence-based as possible, and in tune with the newest developments in clinical research.
Other Positions
Kaiser Permanente San Jose Medical Center
Education
Maharaja Sayajirao University of Baroda

, MBBS

Emory University

, MPH