Hanni Menn-Josephy, MD
Assistant Professor, Medicine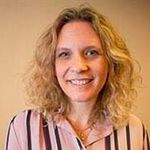 650 Albany St Evans Biomed Research Ctr
Biography
Dr. Menn-Josephy is a board-certified nephrologist with a special interest in Autoimmune Kidney Diseases and Lupus Nephritis. She serves as the Nephrology Director of the Lupus Multidisciplinary Program at Boston Medical Center, that operates as a regional and national referral center for patients that suffer from lupus and lupus nephritis.
As part of her interest in translational research in the field of lupus nephritis, Dr. Menn-Josephy established with her colleagues an autoimmunity clinical registry and patient biobank, with the goal of studying lupus pathogenesis in order to try and identify new therapeutic targets.
Together with her colleagues, Dr. Menn-Josephy developed a unique care model that enables lupus and lupus nephritis patients to enjoy a comprehensive care from rheumatology, nephrology and dermatology disciplines, in order to improve their health and reduce health related disparities. Dr. Menn-Josephy is committed to reducing health disparities in lupus patients, and to identifying better therapeutic targets, since current treatments are non specific, have significant toxicity, and many of the patients do not achieve complete remission and struggle with compliance.
Dr. Menn-Josephy has strong commitment to education and she serves as the Associate Program Director for the Fellowship Program in the nephrology section at Boston Medical Center. Over the past years. she has been involved is establishing educational programs in the field of lupus nephritis on institutional, regional, and national levels.
Other Positions
Member

,

Amyloidosis Center

,

Boston University
Education
Technion - Israel Institute of Technology

, MD

Ben-Gurion University of the Negev

, BSc