Gregory A. Grillone, MD
Chair, Otolaryngology-Head & Neck Surgery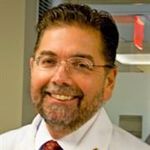 Biography
1. PROSPECTIVE RESEARCH:
a) Retrospective Review of Long Term Voice Quality Following Augmentation of the Vocal Fold with Cymetra Using the Minihole Laryngoplasty Technique. IRB approval obtained this year. Chart review in progress.
b) Feasibility of Using Manual Robotic Instrumentation for Microlaryngeal Surgery. The objective of this study is to evaluate effectiveness of a proprietary robotic instrument for use in microlaryngeal surgery. The first phase of this study will utilize a larynx model/mannequin. Subsequent phases will utilize animal and cadaver models. Study is in initial stage of planning.
c) Use of the DaVinci Robotic System in Pharyngeal and Laryngeal Endoscopic Surgery. The object of this study is to evaluate the usefulness of the DaVinci robotic system in performing endoscopic pharyngeal and laryngeal surgery. Currently such procedures are carried out using conventional endoscopic instrumentation. We are in the process of submitting IRB application.
d) Phase 2, Open-label Trial of the Safety and Biological Effect of Pre-operative Peri-lymphatic Ultralow Dose IRX-2 (with Cyclophosphamide, Indomethacin, and Zinc) in Patients with Resectable Cancer of the Head and Neck. This study is in initial planning stage.
2. FUNDED RESEARCH:
a) Spectroscopic Imaging and Diagnosis of Neoplasia
Source: National Institutes of Health (NCI) – 1R01CA097966
P.I.: Gregory Grillone, M.D., F.A.C.S.
This study is the basis of my triologic thesis. The objectives of this research are to develop and test a spectroscopic based algorithm for the evaluation of cancer or pre-cancerous changes in oral cavity epithelium. An in depth study of this approach is being carried out in the oral cavity as well as for a data set previously collected from the esophagus. This study is being carried out in collaboration with the spectroscopy laboratory at MIT. They have developed a portable, clinical device known as the Fast Excitation Emission Matrix (Fast-EEM), which collects reflectance and fluorescence spectra. This instrument is being used to collect spectroscopic data prior to biopsy of oral cavity lesions in patients with suspicious lesions of the oral cavity.
b) Laser Atraumatic Treatment of Ectasias on Vocal Cords
Source: National Institutes of Health (NIDCD) – 1R21DC006853001
PI: Zimmern Wang, M.D.
Our previous studies have shown the efficacy and safety of PDL as an alternative to routine surgeries (that result in more scarring) for treatment of laryngeal papilloma. Specific aims are (1) to further optimize PDL parameters in the cheek pouches of a hamster model; (2) to compare the treatment selectivity and safety between CO2 laser and PDL microvascular targeting (MVT) treatment, in the same model; and (3) to determine whether PDL will produce better and quicker voice improvement than the CO2 laser, in 12 patients with vocal fold small vascular lesions (ectasias).
c) Voice Preserving Treatment of Recurrent Laryngeal Papilloma (RLP)
Source: National Institutes of Health (NIDCD) – 1R01DC006617
P.I. Zimmern Wang, M.D.
This study is a continuation of our effort to develop a new, low cost and less invasive alternative to the currently traumatic surgeries for RLP. Our final objective is to provide a "voice preserving" and long-term effective therapy for RLP that can be delivered in the putpatient setting. This 2 year study will evaluate 30 adults with RLP, using traditional CO2 laser in 15 cases and new PDL-Celecoxib treatment in other 15 cases.
d) Voice Preserving Treatment of Laryngeal Papilloma in Children
Source: National Institutes of Health (NIDCD) – 1R01DC008287
P.I. Zimmern Wang, M.D.
e) Prediction of Cancer Chemoprevention Efficacy with Cell Imaging
Source: National Institutes of Health (NCI) – 1R21CA
P.I. Zimmern Wang, M.D.
f) Harvard Collaborative Oral Cancer Study
Source: National Institutes of Health – Grant #CA 78609
P.I.: Karl T. Kelsey, M.D., M.O.H.,
Site P.I.: Gregory Grillone, M.D., F.A.C.S.
g) Long-term General and Voice Related Quality of Life after Botulinum Toxin Injection for Adductor Spasmodic Dysphonia
Source: Alpha Omega Honor Society
P.I. Gregory A. Grillone, M.D., F.A.C.S.
Other Positions
M. Stuart Strong and Charles W. Vaughan Professor

,

Otolaryngology-Head & Neck Surgery

,

Boston University Chobanian & Avedisian School of Medicine

Chief

,

Otolaryngology-Head & Neck Surgery

,

Boston Medical Center

Member

,

BU-BMC Cancer Center

,

Boston University

Member

,

Amyloidosis Center

,

Boston University
Education
Mount Sinai School of Medicine

, MD

New York University

, BA