Gabrielle Alexandria VanSpeybroeck, MD
Assistant Professor, Medicine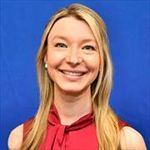 Education
University of Illinois, Chicago

, MD

University of Illinois, Chicago

, BS
Publications
Published on 2/18/2021

Genuardi MV, Shpilsky D, Handen A, VanSpeybroeck G, Canterbury A, Lu M, Shapero K, Nieves RA, Thoma F, Mulukutla SR, Cavalcante JL, Chan SY. Increased Mortality in Patients With Preoperative and Persistent Postoperative Pulmonary Hypertension Undergoing Mitral Valve Surgery for Mitral Regurgitation: A Cohort Study. J Am Heart Assoc. 2021 Feb; 10(5):e018394. PMID: 33599144.

Read at: PubMed

Published on 2/25/2020

Pi H, Kosanovich CM, Handen A, Tao M, Visina J, Vanspeybroeck G, Simon MA, Risbano MG, Desai A, Mathier MA, Rivera-Lebron BN, Nguyen Q, Kliner J, Nouraie M, Chan SY. Outcomes of Pulmonary Arterial Hypertension Are Improved in a Specialty Care Center. Chest. 2020 Jul; 158(1):330-340. PMID: 32109446.

Read at: PubMed

Published on 1/1/2020

VanSpeybroeck G, Rivera-Lebron B. Pulmonary Embolism: From Acute PE to Chronic Complications, eds. Belinda Rivera-Lebron and Gustavo Heresi. Risk Stratification of Acute PE. Springer Nature Switzerland AG. 2020.