Fariba Miryousefi, MD
Assistant Professor, Medicine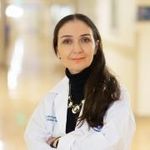 Biography
Fariba Miryousefi, MD, has been a Physician for over 15 years and holds Board Certifications in both Internal Medicine and Addiction Medicine. Conditions that Fariba helps treat include Opioid Dependence, Alcohol Dependence, and Nicotine Dependence. She has practiced in both inpatient and outpatient settings.
Dr. Miryousefi got her start by completing her medical training at Iran University of Medical Sciences, one of the Ivy League medical schools in Tehran/Iran in 1987. She believes that her purpose in life is to lessen the sufferings of humankind and her mission is to use her skills to do exactly that.
Dr. Miryousefi is also a trained artist, loves to read, and every few years embarks on a new project to challenge herself in new ways than before.
Education
Iran University of Medical Sciences

, MD

Azad University

, BS
Publications
Published on 7/15/2003

DeLaney TF, Spiro IJ, Suit HD, Gebhardt MC, Hornicek FJ, Mankin HJ, Rosenberg AL, Rosenthal DI, Miryousefi F, Ancukiewicz M, Harmon DC. Neoadjuvant chemotherapy and radiotherapy for large extremity soft-tissue sarcomas. Int J Radiat Oncol Biol Phys. 2003 Jul 15; 56(4):1117-27. PMID: 12829150.

Read at: PubMed