Christine M. Crawford , MD, MPH
Assistant Professor, Psychiatry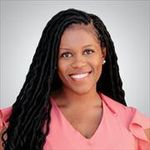 Biography
Dr. Christine M. Crawford is an adult, child and adolescent psychiatrist who sees patients in the Boston Medical Center Child & Adolescent Outpatient Psychiatry Clinic. She is the Director of Medical Student Education and an Assistant Professor of Psychiatry at Boston University School of Medicine. Dr. Crawford is also a part of Wellness and Recovery After Psychosis (WRAP) where she provides psychiatric care for adolescents experiencing symptoms of psychosis.
She completed her adult psychiatry residency as well as child and adolescent psychiatry fellowship training at Massachusetts General Hospital/McLean Hospital. She received her MD from University of Connecticut and her Masters in Public Health at BU School of Public Health where she concentrated in Social and Behavioral Sciences.
She has been engaged in a number of community outreach initiatives through the Boys and Girls Club of Boston, NAACP and the National Alliance on Mental Illness (NAMI) where she serves as the Associate Medical Director. She has authored multiple book chapters on mental health disparities, sociocultural issues in psychiatry as well as peer reviewed publications focusing on major depressive disorder.
Education
University of Connecticut School of Medicine

, MD

Boston University School of Public Health

, MPH

Boston College

, BA
Publications
Published on 5/28/2021

Chen JA, Crawford C, Owusu M, Jahan AB, Faller V, Palmer C, Trinh NH. Sociocultural Psychiatry: Developing and Implementing a Residency Curriculum. Acad Psychiatry. 2022 Jun; 46(3):364-368. PMID: 34050521.

Read at: PubMed

Published on 3/1/2010

Farabaugh A, Locascio JJ, Yap L, Growdon J, Fava M, Crawford C, Matthews J, McCutchen J, Buchin J, Pava J, Alpert JE. Cognitive-behavioral therapy for patients with Parkinson's disease and comorbid major depressive disorder. Psychosomatics. 2010 Mar-Apr; 51(2):124-9. PMID: 20332287.

Read at: PubMed

Published on 2/7/2008

Papakostas GI, Crawford CM, Scalia MJ, Fava M. Timing of clinical improvement and symptom resolution in the treatment of major depressive disorder. A replication of findings with the use of a double-blind, placebo-controlled trial of Hypericum perforatum versus fluoxetine. Neuropsychobiology. 2007; 56(2-3):132-7. PMID: 18259086.

Read at: PubMed