Chandramouli Chandrasekaran, PhD
Assistant Professor, Psychological and Brain Sciences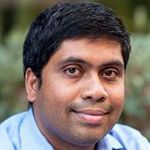 Biography
I am an Assistant Professor of Anatomy and Neurobiology and Psychological and Brain Sciences at Boston University and Chobanian and Avedisian School of Medicine.
My research interests are in identifiying the neural dynamical systems mediating decision-making and goal-directed behavior on the basis of uni- and multisensory inputs. My research interests are best illustrated by an example. For instance, what are the neural mechanisms which allow one to press the brakes when the stop light turns red and the gas pedal when the light turns green.
As a PhD student with Asif Ghazanfar at Princeton, I examined how information from visual and auditory cues are combined, a process termed multisensory integration. Before that I was a masters student at the international Max Planck Research School at the University of Tübingen in Germany. I worked with Ian Thornton, Tony Gummer , Martin Giese and Zoe Kourtzi. I also had fun being a programmer with Nikos Logothetis before I moved to Princeton to work with Asif.
Being an academic means a peripatetic lifestyle. I have had the pleasure of living in beautiful academic settings such as Tübingen, Princeton and Stanford for a few years. Much of my time is spent in my lab.
Other Positions
Assistant Professor

,

Anatomy & Neurobiology

,

Boston University Chobanian & Avedisian School of Medicine
Education
Princeton University

, PhD

Princeton University

, MA

Eberhard Karls Universität Tübingen

, MS

University of Madras

, BSc
Classes Taught
CASNE212
CASPS212
ENGBE900
ENGBE900