Chadi Tannoury, MD, FAOA
Associate Professor, Orthopaedic Surgery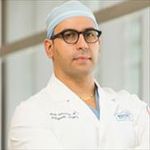 Biography
Dr. Chadi Tannoury was born in Lebanon and earned his medical training at the Lebanese University of Beirut, and completed his Orthopaedic residency at Thomas Jefferson University Hospital in Philadelphia and his fellowship training in Spine surgery at RUSH university medical center in Chicago.
Dr. Tannoury is trained to treat a wide spectrum of spinal pathologies including but not limited to minimally invasive spine surgery, spinal surgery for degenerative conditions, reconstructive spinal surgery for deformative conditions, and surgery for spinal trauma.
While in training, Dr. Tannoury won multiple awards and honors recognizing his outstanding clinical achievements and highlighting the outstanding level of kindness and compassion for the patient entrusted to his care. Additionally, Dr. Tannoury extensively investigated and published numerous basic science and groundbreaking clinical orthopaedic researches.
Through his clinical and academic achievements, Dr. Tannoury proved a national and international distinction via multiple podium presentations, grand rounds presentations, and contributed to the orthopaedic literature with more than 50 peer reviewed articles, book chapters, and selected abstracts.
Moreover, Dr. Tannoury's work expanded beyond the art of medicine into the art of medical illustrations, and his drawings complimented multiple publications and contributed to better understanding of various spinal pathologies and surgical techniques.
Publications
Published on 9/6/2023

Tannoury T, Saade A, Thomas DC, Wisco J, Ajmi Q, Singh V, AbdalKader M, Tannoury C. The "V" Sign: A Reliable Anatomic and Radiographic Landmark for Posterior Percutaneous S1 Screw Placement. JB JS Open Access. 2023; 8(3). PMID: 37675205.

Read at: PubMed

Published on 3/22/2023

Chokshi FH, Kadom N, Dwivedi N, Kundu S, Moussa AY, Tannoury C, Tannoury T. Corrigendum to "Radiographic Cobb Angle: A Feature of Congenital Lumbar Spine Stenosis". Current Problems in Diagnostic Radiology Volume 48, Issue 1, January-February 2019, Pages 45-49. Curr Probl Diagn Radiol. 2023; 52(4):312. PMID: 36964072.

Read at: PubMed

Published on 3/22/2023

Chokshi FH, Kadom N, Dwivedi N, Kundu S, Moussa AY, Tannoury C, Tannoury T. Corrigendum to "Radiographic Cobb Angle: A Feature of Congenital Lumbar Spine Stenosis". Current Problems in Diagnostic Radiology Volume 48, Issue 1, January-February 2019, Pages 45-49. Curr Probl Diagn Radiol. 2023 Mar 22. PMID: 36964072.

Read at: PubMed

Published on 3/17/2023

Samartzis D, Aboushaala K, Albert TJ, Cha T, Chee A, Diwan AD, Espinoza-Orias A, Hu SS, Inoue N, Jacobs JJ, Lenke LG, Louie PK, Martin JT, Nassr A, Oh C, Phillips FM, Riew KD, Shen FH, Tannoury C, Vaccaro AR, Wong AYL, Yoon ST. Howard S. An: 2023 International Society for the Study of the Lumbar Spine Wiltse Lifetime Achievement Award. Spine (Phila Pa 1976). 2023 Jun 01; 48(11):810-813. PMID: 36940256.

Read at: PubMed

Published on 3/17/2023

Samartzis D, Aboushaala K, Albert TJ, Cha T, Chee A, Diwan AD, Espinoza-Orias A, Hu SS, Inoue N, Jacobs JJ, Lenke LG, Louie PK, Martin JT, Nassr A, Oh C, Phillips FM, Riew KD, Shen FH, Tannoury C, Vaccaro AR, Wong AYL, Yoon ST. Howard S. An: 2023 ISSLS Wiltse Lifetime Achievement Award. Spine (Phila Pa 1976). 2023 Mar 17. PMID: 36940256.

Read at: PubMed

Published on 1/23/2023

Tarawneh OH, Garay-Morales S, Liu IZ, Pakhchanian H, Kazim SF, Roster K, McDaniel L, Tabaie SA, Vellek J, Raiker R, Schmidt MH, Bowers CA, Tannoury T, Tannoury C. Impact of COVID-19 on Spinal Diagnosis and Procedural Volume in the United States. Global Spine J. 2023 Jan 23; 21925682231153083. PMID: 36688402.

Read at: PubMed

Published on 8/31/2022

Tannoury CA, Bhale R, Koh J, Saade A, Maatouk C, Tannoury T. Opioid Use Among Orthopaedic Patients and Comparison of Opioid Prescribing Patterns Among Spine Surgeons and Other Orthopaedic Subspecialists in the United States. Medical Research Archives, Aug 31, 10(8). 2022.

Read at: Custom

Published on 7/29/2022

Fardon D, Samartzis D, Louie P, Tannoury C. Disc Displacement. Spine Phenotype, 1st Ed, Samartzis D, Williams F, Karppinen J, eds. Academic Press - Elsevier, Philadelphia 2019. Elsevier. Philadelphia. 2022; 300.

Published on 7/13/2022

Tannoury C, Das A, Saade A, Bhale R, Chen K, Tannoury T. The Antepsoas (ATP) Surgical Corridor for Lumbar and Lumbosacral Arthrodesis: A Radiographic, Anatomic, and Surgical Investigation. Spine (Phila Pa 1976). 2022 Aug 01; 47(15):1084-1092. PMID: 35834370.

Read at: PubMed

Published on 3/16/2022

Recommendations from the ICM-VTE: Spine. J Bone Joint Surg Am. 2022 03 16; 104(Suppl 1):309-328. PMID: 35315616.

Read at: PubMed
View 77 more publications: View full profile at BUMC