Anthony John Mell, MD, MBA
Assistant Professor, Pediatrics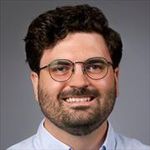 Biography
Anthony was born in the rural community of Oley Valley, PA. His father was a crane operator, and his mother was a lunch lady. He worked as a janitor and landscaper during middle and high school, before going to college at Fairleigh Dickinson University where he got both a BS and subsequently an MBA. While completing his undergraduate education Anthony also worked closely with several disinvested communities including adults with autism, youth in the foster care system, and youth in the criminal legal system. Anthony then completed his medical education at the Mount Sinai School of Medicine in Manhattan where he worked closely with the immigrant community in East Harlem. Anthony completed his residency training at the Boston Combined Residency Program at Boston Childrens' Hospital and Boston Medical Center in the Leadership in Equity and Advocacy Track.
Now Anthony J. Mell is the inaugural Ravin Davidoff Health Equity Fellow at Boston Medical Center. In this fellowship he studies health equity, implementation sciences, and health system management. He applies those skills to intervention-based projects by working with BMC's Health Equity Accelerator, a health system wide collaboration to improve the healthcare of Boston Medical Center's patients, specifically focused on health inequities. Anthony also delivers primary care to the children of Boston through his role as an Assistant Professor of Pediatrics at Boston Medical Center.
Finally, Anthony routinely teaches health equity content to residents and medical students through his roles as the Leadership in Equity and Advocacy Course Director and as a Health Equity Rounds Faculty Mentor. In those roles, Anthony created and operationalized an 18-month long health equity curriculum consisting of monthly in person discussion-based sessions and professional development modules with accompanying asynchronous content. He also mentors residents to create specific case-based health equity conferences that are presented to the pediatric department in a grand rounds format. Finally, he has led teaching sessions on racism across multiple departments in his institution and to all levels of learners, medical students, residents, and faculty.
His areas of interest include quality improvement and implementation science, racial socialization, the care of criminal legal system involved youth and youth in the foster care system, the deconstruction of the school to prison pipeline, economic mobility, population health management, and disability justice.
Education
Mount Sinai School of Medicine

, MD

Fairleigh Dickinson University

, MBA

Fairleigh Dickinson University

, BS
Publications
Published on 9/7/2023

Elizabeth Agenta, Haritha Aribindi, Omotola Ajayi, Janani Sundaresan, Anthony Mell. Poor Health is Driving Chronic Absenteeism Among High Schoolers — Here's How Pediatricians Can Help. HealthCity. 2023.

Read at: Custom

Published on 12/1/2022

Edwards JG, Cheston CC, Kelly CA, Brewster RCL, Williams AR, Mell AJ. A Community-Based COVID-19 Vaccine Education Initiative. Pediatrics. 2022 Dec 01; 150(6). PMID: 36349517.

Read at: PubMed

Published on 7/1/2022

Jackson J, Mell A. Beyond the Cover-Children's Books as Tools for Positive Social Identity Formation. JAMA Pediatr. 2022 Jul 01; 176(7):637-638. PMID: 35532920.

Read at: PubMed

Published on 4/4/2022

Pan J, Leader A, Wang E, Ratnapala N, Garvey KL, Gowda R, Moser J, Mell AJ, Pak T, Singer E, Thomas D, Meah Y. Screening for Torture, Asylum, and Trauma among Patients Seeking Care in an Urban Student-Run Free Clinic. Journal of Student-Run Clinics. 2022; 8(1).

Published on 1/27/2020

Dembar A, Mell AJ, Hsieh V, Chandrasekan S, Rifkin R, Thomas DC, Meah YS. Reducing Food Insecurity through Personalized Interventions at the East Harlem Health Outreach Partnership. Journal of Student-Run Clinics. 2020; 6(1).

Read at: Custom

Published on 11/29/2019

Iyer V, Vo Q, Mell A, Chinniah S, Zenerovitz A, Venkiteswaran K, Kunselman AR, Fang J, Subramanian T. Acute levodopa dosing around-the-clock ameliorates REM sleep without atonia in hemiparkinsonian rats. NPJ Parkinsons Dis. 2019; 5:27. PMID: 31815176.

Read at: PubMed