Anthony Hollenberg, MD
John Wade Professor, Medicine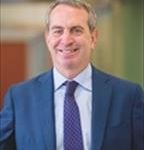 72 East Concord Street, Evans 113
Biography
The focus of my research program is the thyroid with a focus on the role of gland development and the actions of its hormones. To accomplish these goals we have built a unique program in thyroid gland development from endoderm in order to derive new therapies for hypothyroidism. Additionally, we explore thyroid hormone action and nuclear receptor signaling as a model system. Our work has uncovered a unique role for nuclear receptor co-regulatory proteins termed nuclear corepressors in thyroid hormone signaling and determining hormone sensitivity. Furthermore, we have used our understanding of thyroid hormone signaling to identify new biomarkers of its action.
My laboratory has a long-standing interest in how thyroid hormone mediates its effects in context of genomic regulation. Specifically we were amongst the first to begin to differentiate how thyroid hormone is able to stimulate both positive and negative gene regulation. Studies in this area allowed us to be able to characterize the interaction of the thyroid hormone receptor with its cofactors which are necessary for genomic regulation.
We were pioneers in the use of knock-out mouse models to validate the role of thyroid hormone receptor co-factors, specifically nuclear corepressors, in thyroid hormone signaling. These studies allowed us to demonstrate that the tissue-specific expression of co-factors determines a set hormone sensitivity. This has important ramifications for thyroid/steroid action in general. Furthermore these studies have allowed us to better understand the specificity of coregulator interactions with the thyroid hormone receptor and their role in disease.
In addition to our work on thyroid hormone action we have also had a long standing interest in the intersection of the regulation of biomarkers of thyroid hormone action including the regulation of the hypothalamic pituitary thyroid axis by thyroid hormone and other metabolic pathways. Our work has demonstrated that these pathways and others are linked at the molecular and physiological level. Furthermore, they must be considered when trying to understand the effects of thyroid hormone signaling.
Most recently, because of our interest in defining the etiology of the set point of the HPT axis, we became interested in creating a durable thyroid follicular cell model. To accomplish this we began a complete collaboration with the Kotton laboratory at Boston University and have successfully developed the molecular paradigm to develop thyroid follicular cells from ESCs or IPSCs across multiple species. Additionally we have established that these derived cells function in vivo.
Other Positions
Chair

,

Medicine

,

Boston University Chobanian & Avedisian School of Medicine

Physician-in-Chief

,

Boston Medical Center