Ann C. Zumwalt, PhD
Associate Professor, Anatomy & Neurobiology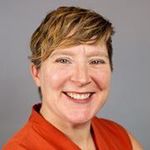 72 E. Concord St Instructional (L)
Biography
Dr. Zumwalt joined the Department of Anatomy and Neurobiology in 2007. She has a strong interest in curriculum and faculty development in medical education, with a particular focus on inclusive pedagogy and diversity and inclusion. She also has interests in bridging the foundational and clinical sciences in medical education and in the development of graduate students as future biomedical educators.
Dr. Zumwalt is currently the lead of the gender and sexual diversity thread of the medical school curriculum and chair of the Preclerkship Curriculum Subcommittee. She was previously the co-director of the year-long first year medical course Principles Integrating Science and Medicine (PrISM) and directed the Body Structures (medical gross anatomy) course for 10 years. She has also taught advanced clinical anatomy topics in the medical school curriculum, including anatomy refresher sessions for the Radiology and Obstetrics & Gynecology clerkships. Within the Department of Anatomy & Neurobiology she is Course Director of the Teaching in the Biomedical Sciences course. In 2018 she was awarded the Stanley Robbins Educator of the Year award in the School of Medicine.
Training
Dr. Zumwalt earned her doctorate in 2005 from the Center for Functional Anatomy and Evolution at the Johns Hopkins University School of Medicine. Her research there demonstrated that endurance exercise does not affect the surface morphology of skeletal muscle attachments. These findings challenged the rarely questioned assumption that analysis of these features can be used to provide insight into the activity patterns of extinct human and animal populations. Dr. Zumwalt subsequently joined the Animal Locomotion Laboratory in the Department of Biological Anthropology and Anatomy at Duke University. There she investigated the effects of hypermuscularity on locomotor patterns and bone morphology in rodents. She also collaborated on various research and educational projects with clinicians in radiation oncology, obstetrics and gynecology and neurology.
Service – National
Dr. Zumwalt is actively involved in the American Association for Anatomy, having served on the Board of Directors, Professional Development Committee, and the Advisory Committee of Young Anatomists. She also represented BUSM nationally on the AAMC Committee on Faculty and Academic Societies.
Service – Medical School
Dr. Zumwalt is the chair of the Preclerkship Curriculum Subcommittee of the Medical Education Committee and its Diversity and Inclusion Working Group. She also chairs the Gender and Sexual Diversity Vertical Integration Group for the School of Medicine. Past positions include chairing the John McCahan Medical Campus Education Day committee, representing the School of Medicine on Boston University Faculty Council and
Service – Department of Anatomy & Neurobiology
Dr. Zumwalt serves on the Graduate Education Committee for the department. She served as Graduate Program Director from 2019-2022.
She previously represented the department on the BUSM Committee on Faculty Affairs.
Other Positions
Graduate Faculty (Primary Mentor of Grad Students)

,

Boston University Chobanian & Avedisian School of Medicine, Graduate Medical Sciences
Education
Johns Hopkins University School of Medicine

, PhD

Rice University

, BA
Classes Taught
AN 806
GMS AN 806
GMSAN802
GMSAN806
GMSAN809
GMSAN902
MS142/GMSAN701