Aishatu Aloma, MD, MPH
Assistant Professor, Pathology & Laboratory Medicine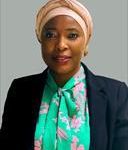 Biography
Aishatu Isah Ladu, MD, MPH is an assistant professor of Pathology & Laboratory Medicine at Chobanian and Avedisian School of Medicine. She completed her medical school training at the University of Maiduguri College of Medical Sciences in Nigeria and was certified by the Educational Commission for Foreign Medical Graduates (ECFMG) in 2014. In 2012, she earned her Masters of Public Health from Johns Hopkins School of Public Health in Baltimore, Maryland. Prior to joining BMC in 2021, Dr. Aloma held clinical research positions at Tufts Medical Center and Beth Israel Deaconess Medical Center. She also served as a clinical associate at Tufts University School of Medicine and as a breast/gynecologic surgical pathology fellow at UMass Memorial Medical Center.
Education
University of Maiduguri, Nigeria

, MD

Johns Hopkins University School of Public Health

, MPH
Publications
Published on 8/4/2018

Inayat F, Song F, Ali NS, Aslam MH, Aloma A, Hachem H, Saif MW. Hepatitis B virus reactivation following imatinib therapy: A comparative review of 9 cases. J Oncol Pharm Pract. 2019 Sep; 25(6):1500-1508. PMID: 30079802.

Read at: PubMed

Published on 2/5/2018

Gao J, Chow E, Aloma A, Gupta P. Peripheral primitive neuroendocrine tumor of the chest wall-A case report with pathological correlation. Radiol Case Rep. 2018 Apr; 13(2):392-396. PMID: 29904480.

Read at: PubMed

Published on 10/1/2015

Aloma A, Folch E, Del Guzzo M, Ochoa S, Cheng G, Majid A. Chest. Comparison of Chest CT Scan Versus Chest X-ray in Evaluating Radiologic Improvement After Treatment With Intrapleural Tissue Plasminogen Activator (TPA) and Deoxiribonuclease (DNase) for Chest Tube Refractory Complex Pleural Effusions. 2015; 148:329A.

Read at: Custom

Published on 1/1/2015

Aloma AI, Cheng GZ, Folch E, Majid A. American Thoracic Society International Conference Abstracts. Catamenial Hemothorax: Case Report and a Systematic Review. 2015.

Read at: Custom

Published on 10/1/2014

Fashjian M, Folch E, Roca E, Aloma A, Majid A. Chest. Use of Tunneled Pleural Catheters in Patients With Congestive Heart Failure: A Single Institution Experience. 2014; 146:449A.